A delicious, quick and easy to make cheese stuffed paratha. Ideal for breakfast or for lunch, they can also be served as appetizers.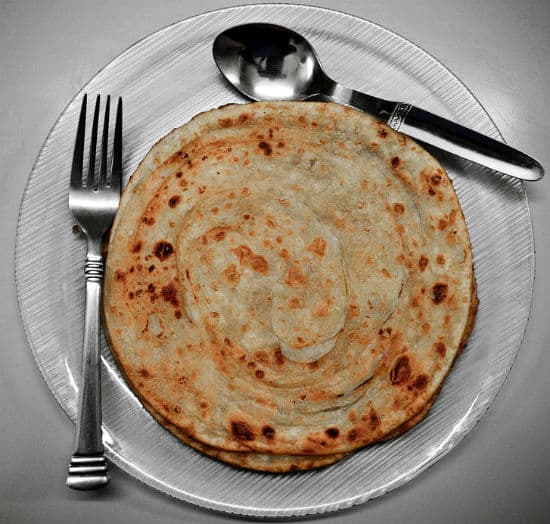 Ingredients:
Wheat Flour – 3 cups
Cheese – 2 cups, shredded
Red Chilli Powder – 1 tsp
Green Chillies – 2, finely chopped
Garlic – 3 to 5, minced
Cumin Seeds – 1 tsp
Coriander Leaves – 1 cup, chopped
Ghee – 1/2 cup
Salt – 1 tsp
Method:
1. Combine and sift 2 2/1 cups of the wheat flour and salt in a bowl.
2. Sprinkle enough water and knead to a soft dough.
3. Cover with a moist towel and keep aside for 10 to 15 minutes.
4. In a different bowl, mix the cheese with chilli powder, green chillies, minced garlic, cumin seeds and coriander leaves.
5. Make small/medium balls of the dough and roll them out on a lightly floured flat surface.
6. To each, add 2 to 3 tblsp of the cheese mixture. Fold, seal the edges and roll it into a 1/2 inch thick paratha.
7. Heat a tawa over medium flamee.
8. Cook the parathas on both sides until brown spots start to appear, applying ghee around the edges.
9. Remove and serve with side dish of choice.