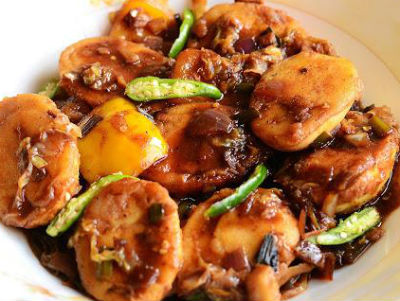 Ingredients:
Eggs – 4
Onions – 2, big, ground
Tomato – 2, ground
Cashewnuts – 6, ground powder
Red Chilli Powder – 1 tsp
Mutton Masala Powder – 1/2 tsp
Garam Masala Powder – 1/2 tsp
Ginger Garlic Paste – 2 tsp
Cinnamon – a small piece
Cloves – 2
Cardamoms – 2
Coriander Leaves – few, chopped
Oil as required
Salt as per taste

Method:
1. Break the eggs in a bowl and add a litle salt.
2. Beat well.
3. Steam cook this in a idli plate for 10 minutes and remove.
4. Allow it to cool and then cut into small squares (or into desired shapes).
5. Heat oil in a pan over medium flame.
6. Fry the egg squares and keep aside.
7. In a separate pan, heat a little oil.
8. Add cinnamon, cloves, cardamoms and fry for 45 seconds.
9. Add the ground onions and fry till the raw smell disappears.
10. Add the tomato paste, ginger garlic paste, red chilli powder, mutton masala powder, garam masala powder and salt.
11. Mix well and cook for 5 minutes, stirring from time to time.
12. Sprinkle a little water and cover the pan with a lid.
13. Cook for 2 minutes and then add the fried egg pieces.
14. Garnish with coriander leaves.
15. Stir once and serve hot or warm.
16. This can be served with chapati, roti or naan or with rice.
Note: image is for illustration purposes only and not that of the actual recipe.