A simple, delicious and easy to make evening snack with samosas and chole.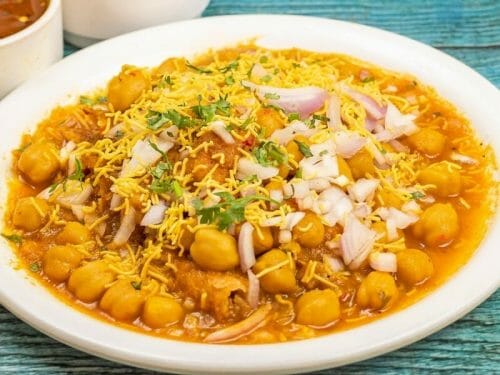 Samosa Chaat is a classic Indian street food typically consumed as an evening snack. Cooked samosas are crumbled and mixed with chickpeas, spices, assortment of chutneys, garnished with coriander leaves, sev and pomegranate seeds.
It is a delicious and lip-smacking dish that is very popular in North India.
Making this Samosa Chaat at home is not difficult. All you need is couple of samosas, chole/chickpeas and few other ingredients that are available in most major supermarkets these days.
For those who like to do things from scratch, you can make the samosas from scratch home along with the delicious chole.
However, if you want to speed things up, buy samosas from one of the several restaurants nearby (via swiggy or zomato) and use this recipe of Amritsari Chole. Garnish as desired.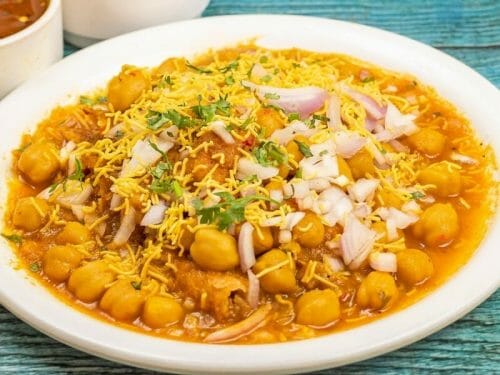 Samosa Chaat
A simple, delicious and easy to make evening snack with samosas and chole.
Ingredients
For making the Chole:
1

cup

Chickpeas

soaked and boiled

3

tsp

Oil - 3 tsp

3/4

tsp

Garlic Paste

1/2

tsp

Ginger Past

1/2

cup

Tomatoes

chopped

1/2

tsp

Green Chili Paste

1

tsp

Chole Masala Powder

1/2

tsp

Black Salt

1/2

tsp

Red Chilli Powder

1/4

tsp

Amchur (Dried Mango Powder)

as per taste

Salt as per taste
To Serve:
2

Samosas

2

tbsp

Sweet Tamarind Chutney

1

tbsp

Green Chutney

2

tbsp

Red Garlic Chutney

2

tbsp

Onions

finely chopped

2

tbsp

Sev

handful

Coriander Leaves

finely chopped
Instructions
To make the chole, heat oil in a non-stick pan over medium flame.

Saute hte ginger and garlic paste for 10 seconds.

Add the chopped tomatoes and cook for 3 to 5 minutes or until the tomatoes turn soft and mushy.

Add the chole masala, green chilli paste, black salt, amchur, red chilli powder and regular salt.

Add 1 to 2 tblsp of water and mix well.

Cook for a minute, stirring occasionally.

Add the cooked chickpeas and 3 to 4 tblsp of water.

Mix well and cook for a minute.

Switch off the flame when cooked.

To make the samosa chaat, roughly break 1 samosa into small pieces and keep it in a serving bowl.

Add some of the cooked chole over it.

Add little of sweet tamarind chutney, green chutney, red garlic chutney, onions and sev.

Garnish with coriander leaves.

Serve at once.