A delicious and flavourful grilled chicken appetizer for any occasion.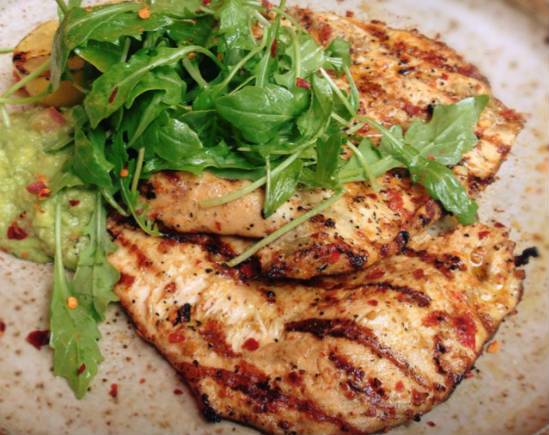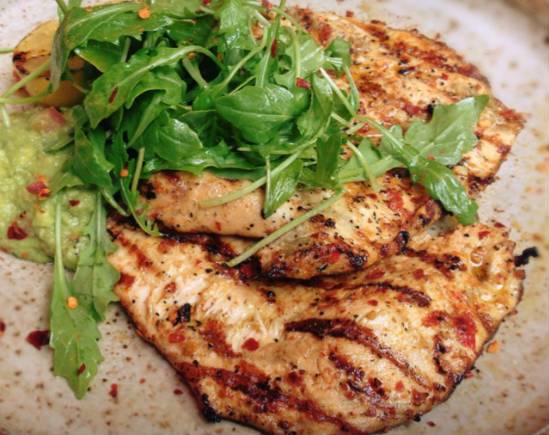 Ingredients:
Chicken Legs (or Chicken Breasts) – 2
Coriander Seeds – 2 tsp
Cumin Seeds – 1/2 tsp
Fenugreek Seeds – 1/4 tsp
Mustard Seeds – 1/4 tsp
Red Chillies – 2, small
Ginger Garlic Paste – 1 1/2 tblsp
Turmeric Powder – 1/2 tsp
Green Chillies – 2, small, chopped
Coriander Leaves – 3/4 cup, chopped
Sunflower Oil as required
Red Chilli Flakes as required (optional)
Salt as per taste
Method:
1. Heat very little oil in a pan over medium flame.
2. Fry the coriander seeds, cumin seeds, fenugreek seeds, mustard seeds and red chillies for 30 seconds.
3. Remove and grind to a fine powder.
4. Mix the ginger garlic paste, turmeric powder and green chillies with 2 tblsp oil.
5. Grind this to a coarse paste.
6. Add the ground powder and 1/2 tsp of salt.
7. Mix well.
8. Rub this all over the chicken legs and keep it in the fridge for 2 to 4 hours.
9. Heat little oil in a grill pan over medium flame.
10. Add the chicken legs and cook until golden, about 30 to 40 minutes.
11. Remove and transfer to a serving plate.
12. Sprinkle with some red chilli flakes if using.
13. Serve with lime slices and raita or salad of choice.