Experience the unique flavours of Uppu Kozhukattai, a savoury South Indian delight with a perfect balance of spice and coconut.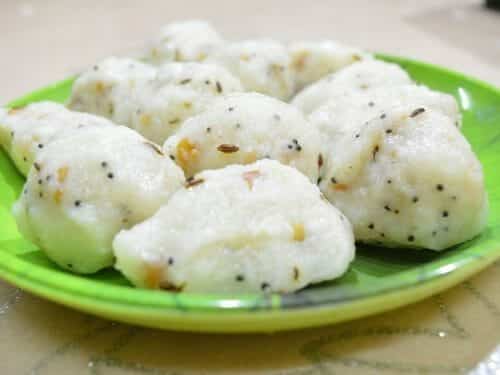 Discover the flavours of South India with "Uppu Kozhukattai," a traditional dish that's a staple during festive seasons and special occasions. This dish is a delightful union of textures and tastes, combining the earthiness of urad dal, the heat of dry red chillies, and the sweetness of grated coconut, all encased in steamed rice flour dough.
Imagine the excitement of crafting these delicate rice dumplings, each one carefully shaped and folded, filled with a zesty mixture that's a burst of flavour in every bite. The process is a labour of love, resulting in a dish that's pleasing to the palate and visually appealing.
Like chapati, Uppu Kozhukattai can be enjoyed as a snack or a main course. If you want variations, you can also try making Uppu Kolukattai with ulundu (urad dal) or Poori Kattai, similar to the famous Indian bread but in dumpling form. If you want to explore the regional names for kozhukattai, in Kannada, it is called "kozhukattai.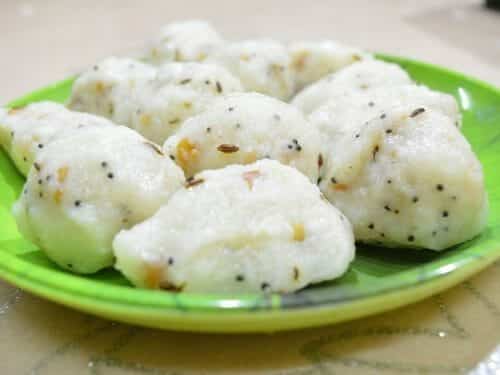 Uppu Kozhukattai
Experience the unique flavours of Uppu Kozhukattai, a savoury South Indian delight with a perfect balance of spice and coconut.
Ingredients
250

gms

Raw Rice

125

gms

Urad Dal

4 to 5

Dry Red Chillies

1/4

cup

grated Coconut

Salt to taste

Mustard Seeds

Curry Leaves

Oil
Instructions
Soak and wash the rice, then spread it out to dry. Grind it to a smooth flour.

Soak the dal for an hour, drain well, and grind with the red chillies. Set aside.

Mix salt into the dal mixture.

Steam cook this mixture in an idli cooker and crumble it once it's cooled.

Heat oil in a pan, add mustard seeds and curry leaves and fry for 30 seconds.

Add grated coconut and crumbled dal mixture. Mix well. Your filling is ready.

Gradually pour 3/4 to 1 cup of hot water into the rice flour. Mix until it reaches chapati dough consistency.

Make small balls from the dough and shape them into small cups.

Add 1 or 2 tsp of the dal filling into each cup and fold them.

Steam cook these cups in a greased idli plate for 10 to 15 minutes.

Serve hot.
Frequently Asked Questions (FAQ):
What's the difference between Uppu Kozhukattai and Modak?
Uppu Kozhukattai is a savoury variant of the traditional sweet Modak. While Modak is sweet and often filled with jaggery and coconut, Uppu Kozhukattai is savoury, typically filled with a spiced mixture of urad dal, red chillies, and coconut.
Can I make Uppu Kozhukattai ahead of time?
You can prepare the dough and filling in advance and steam the dumplings just before serving for the best taste and texture. The dough can be refrigerated for a day or two.
Can I adjust the spice level in Uppu Kozhukattai?
Absolutely! Adjust the number of dry red chillies to your preference for spice. If you like it hotter, add more, or reduce them for a milder taste. Taste the filling mixture before shaping the dumplings.
Are Uppu Kozhukattai gluten-free?
Uppu Kozhukattai is gluten-free as it's made from rice flour and urad dal, which are naturally gluten-free ingredients. It's an excellent option for those with gluten sensitivities.
Can I freeze leftover Uppu Kozhukattai?
Yes, you can freeze the leftover dumplings. Ensure they are completely cooled, then store them in an airtight container in the freezer. When ready to eat, steam them to reheat and enjoy.