Yakitori Chicken is a Japanese stir-fry (or skewer) dish that is easy to make and is delicious. A popular recipe in Japan, it is served with a choice of noodles or rice.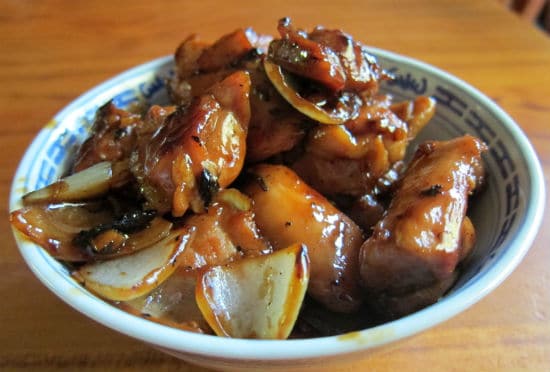 Ingredients:
Chicken Breast – 1, boneless, cut into strips or cubed
Dark Soy Sauce – 2 tblsp
Honey – 1 1/2 tblsp
Dry White Wine – 2 1/2 tsp
Sesame Oil – 1 tsp
Mixed Vegetables – 150 gms, chopped (beansprouts, carrots, capsicum)
Onion – 1, small, finely chopped
Corn Flour – 1 tsp
To Serve:
Plain Noodles – 1 packet, cooked as per packet instructions
or
Cooked Rice
Method:
1. Combine the chicken strips, honey, dry white wine and soy sauce in a shallow bowl.
2. Cover and keep aside for 10 to 15 minutes.
3. Heat oil in a frying pan over medium flame.
4. Remove the chicken, drain excess marinade and add to the pan.
5. Stir-fry for 4 to 5 minutes or until cooked through.
6. Add the vegetables and cook for a minute.
7. Mix any remaining marinade with corn flour and pour into the pan.
8. Stir-fry for a minute or two or until everything is cooked and coated in the sauce.
9. Transfer the cooked noodles to a serving bowl.
10. Spoon over the chicken and serve at once.