Reshmi Chicken Kabab is a delicious starter/appetizer dish where boneless chicken pieces are marinated in a mixture of curd, cashew nut paste and yogurt.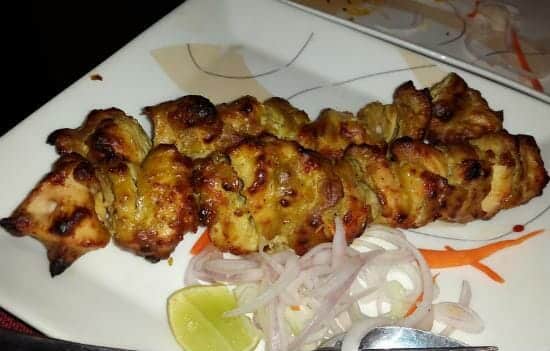 Ingredients:
Chicken – 250 gms, skinless, boneless
Cream – 1/4 cup
Ginger Garlic Paste – 1 tblsp
Cashew Nut – 3 to 4 tblsp
Plain Yogurt – 2 tblsp
Garam Masala Powder – 1/4 tsp
Salt as per taste
Ghee as required
Lemon Wedges
Onion Rings
Wooden Skewers – few, soaked in water for 30 to 40 minutes
Method:
1. Chop the chicken into bite-sized pieces.
2. Grind the cashew nut with little water to make a thick paste.
3. Add the cream, ginger garlic paste, yogurt, garam masala powder and salt.
4. Mix well.
5. Rub this all over the chicken pieces and keep aside for 3 to 4 hours in the fridge.
6. Heat a grill pan over medium flame (You can also use a charcoal grill).
7. Skewer the chicken pieces and place them on the grill.
8. From time to time, baste them with the ghee and grill for about 3 to 4 minutes.
9. Remove and serve with lemon wedges and onion rings.