An iconic indo-chinese dish served as an appetizer or as an evening snack.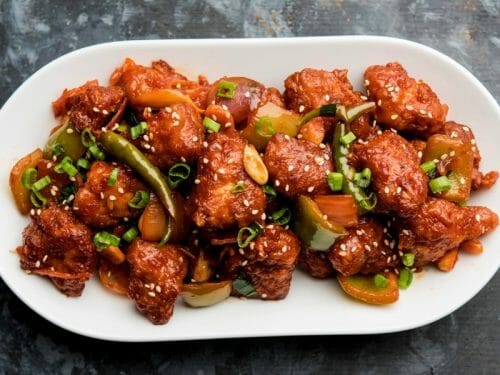 Chilli Chicken is one of the most popular Indo-Chinese dish across Indian sub-continent. Tender chicken pieces cooked in soy and chilli sauce with vegetables, this dish is served as an appetizer starter dish or as a snack.
There are numerous local variations to this iconic dish – some are made dry while some have a gravy to it.
Whether you take the dry or gravy, the dish is bound to make you drool and is considered healthy due to it low carb content. Hence this chicken dish is popular with those following keto diet or wanting to lose weight.
Serve it as an appetizer during weekend parties or as an evening snack to kids, this dish is ideal for any occasion. Serve it with fried rice, pulao or noodles.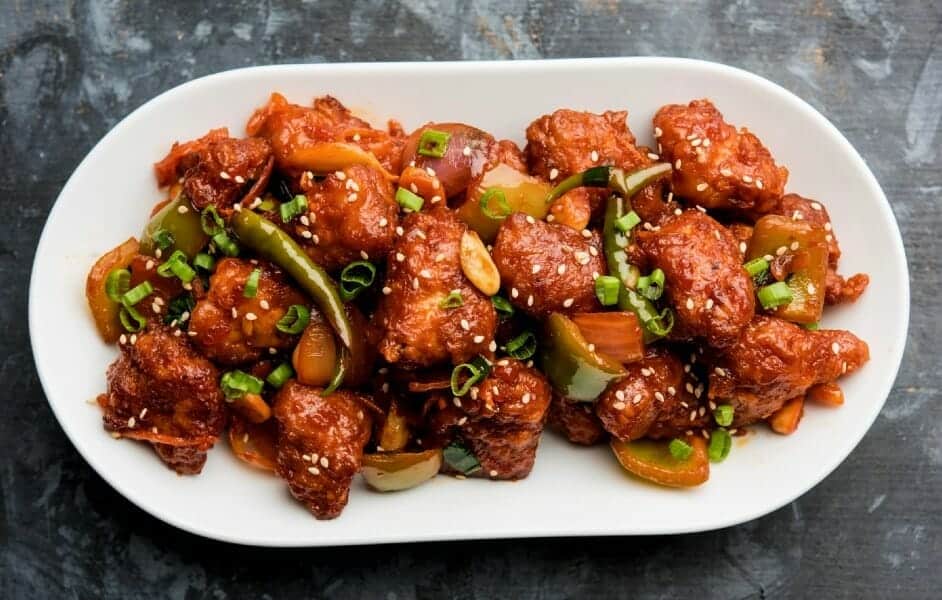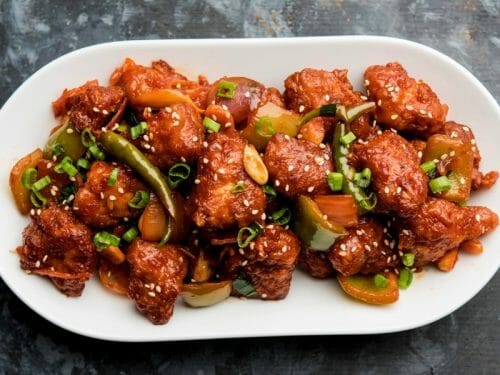 Chilli Chicken
An iconic indo-chinese dish served as an appetizer or as an evening snack.
Ingredients
500

g

Chicken

boneless

2

Capsicum

medium, diced

4 to 5

Green Chillies

chopped

4

Garlic Cloves

chopped

20

Shallots (Sambar Onions)

chopped

2

tsp

Soy Sauce

2

tsp

Chilli Sauce

2

tsp

Tomato Sauce

4

tsp

Butter

as per taste

Salt

few

Spring Onions - few

chopped, to garnish
Instructions
Cook the chicken and cut them into bite-sized pieces. Keep aside.

Heat butter in a pan over medium flame.

Add the garlic and saute for 30 seconds.

Add onions, capsicum, green chillies and saute for a minute.

Add the soy sauce, tomato sauce and chilli sauce.

Mix well.

Add chicken pieces and mix well.

Add salt as per taste.

Mix well.

Garnish with spring onions.

Serve as a starter or with any rice dish.
Frequently Asked Questions about Chilli Chicken
What is the best cut of chicken to use for Chilli Chicken?
The best cut of chicken to use for Chilli Chicken is boneless chicken. Boneless chicken breasts or boneless chicken thighs work well for this recipe as they cook quickly and evenly, resulting in tender and succulent chicken pieces. Using boneless chicken, you can easily cut it into bite-sized pieces perfect for coating with the flavorful marinade and stir-frying. The absence of bones allows the chicken to cook faster, making it a convenient choice for a quick and delicious meal.
Can I make Chilli Chicken less spicy?
Yes, you can adjust the level of spiciness in Chilli Chicken according to your preference. If you prefer a milder version, you can reduce the number of chilli flakes or omit them altogether. You can also deseed the chilli peppers used in the recipe to reduce the heat. Additionally, balancing the spiciness with other ingredients like honey or sugar can help to mellow out the flavours. Remember that Chilli Chicken is known for its spicy kick, so reducing the spiciness too much may alter the authentic taste of the dish. However, feel free to experiment with the spice levels and tailor it to your liking.
What are some suitable accompaniments or side dishes to serve with Chilli Chicken?
Chilli Chicken pairs well with various accompaniments and side dishes that complement its flavours and textures. You can serve it with steamed or fried rice to create a complete and satisfying meal. Additionally, noodles like Hakka noodles or Chow Mein make a fantastic pairing with Chilli Chicken, offering a delightful combination of flavours and textures. For a healthier option, you can serve it with stir-fried vegetables or a fresh salad to add a refreshing element to the meal. If you're looking for a fusion twist, serving Chilli Chicken with naan bread or roti can create an exciting blend of Indian and Chinese flavours. For added freshness and visual appeal, remember to garnish the dish with chopped spring onions or cilantro.