Simple and tasty cutlets with almonds. Serve as a snack.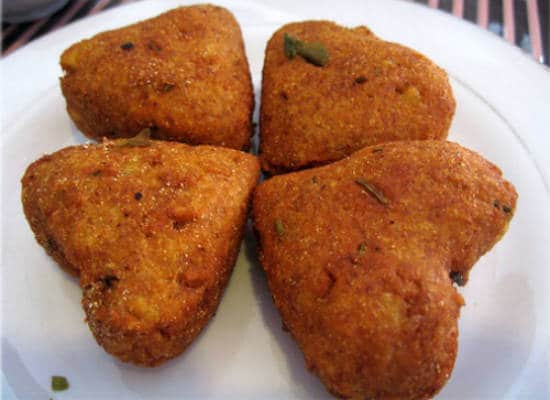 Ingredients:
Potatoes – 4 cups, boiled, peeled, mashed
Almonds (Badam) – 1 cup, peeled, crushed or coarsely powdered
Oil – 6 tblsp + extra for frying
Cumin Seeds – 4 tsp
Ginger – 2 tblsp
Turmeric Powder – 1 tsp
Red Chilli Powder – 1 tsp
Green Chillies – 2, finely chopped (or use 2 to 3 tsp Green Chilli Paste)
Spring Onions – 1 cup, finely chopped
Maida – 2 cups
Breadcrumbs – 2 cups
Salt as per taste
Method:
1. Heat oil in a pan over medium flame.
2. Add the cumin seeds and fry for 30 seconds.
3. Add the ginger, green chillies, almonds, turmeric powder, red chilli powder and stir well for a minute.
4. Add the mashed potatoes and salt.
5. Mix well and cook for 5 minutes.
6. Remove the pan from flame and add the spring onions.
7. Mix and shape the mixture into small/medium cutlets of desired shapes.
8. Heat oil for frying in a deep frying pan.
9. Add a little water to maida and mix well to a thick batter.
10. Dip the prepared cutlets in the batter and roll them in the breadcrumbs.
11. Add them to the hot oil and fry until golden brown.
12. Remove and drain excess oil.
13. Serve hot with sauce or chutney.