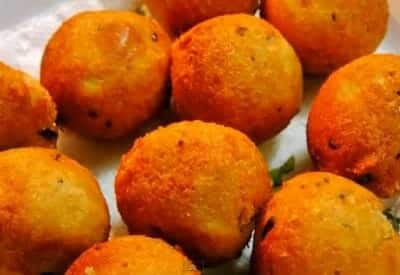 Ingredients:
Potatoes – 250 gms, boiled, peeled
Rajma – 250 gms, boiled with a little salt, mashed
Paneer – 250 gms, crumbled or grated
Vermicelli – 250 gms
Garam Masala Powder – 2 tsp
Red Chilli Powder – 2 tsp
Ginger Garlic Paste – 2 tsp
Cream Cheese – 50 gms
Saunf – 1/4 tsp
Onions – 2
Black Pepper Powder – 1 tsp
Salt as per taste
Oil as required
Method:
1. Combine the potatoes, paneer, pepper powder and salt in a bowl.
2. Keep aside.
3. Heat little oil in a pan.
4. Fry the saunf and ginger garlic paste for 30 seconds.
5. Add the onions and saute for 2 minutes or until tender.
6. Transfer to a bowl.
7. Add the boiled and mashed rajma, garam masala powder and red chilli powder.
8. Mix well.
9. Make small cups of the potato mixture and add 1 or 2 tsp of the rajma mixture.
10. Fold well and shape this into a small-medium sized ball.
11. Heat oil in a deep frying pan over medium flame.
12. Roll the balls in the vermicelli and then in the coriander leaves.
13. Fry until light golden brown.
14. Remove and drain excess oil.
15. Serve hot.
Note: image is for illustration purposes only and not that of the actual recipe.