Potato Cutlets are a popular appetizer/starter snack suitable for any occasion. They can also be served as a evening snack or afterschool snack for kids.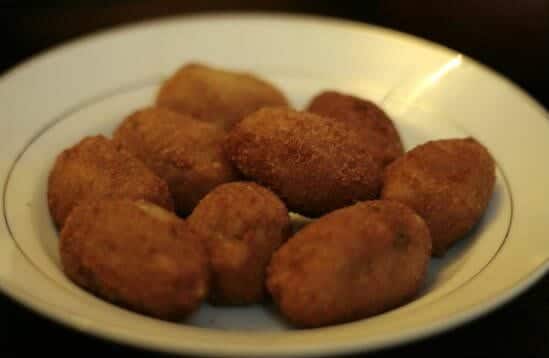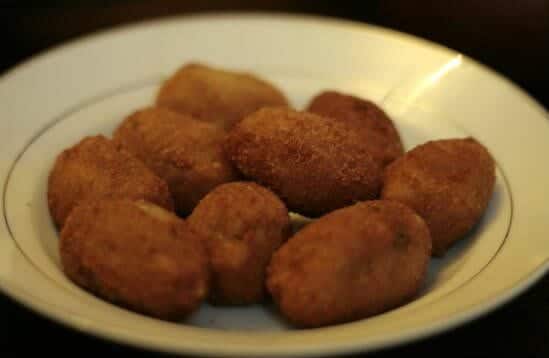 Ingredients:
Potatoes – 500 gms
Onion – 1, medium
Green Chillies – 4
Coriander Leaves – 2 tblsp, chopped
Cumin Powder – 1/2 tsp
Garam Masala Powder – 1/2 tsp
Cheese – 3 tblsp, grated
Salt – 3/4 tsp
Refined Flour – 4 tblsp
Breadcrumbs – 1 1/2 cups
Oil – 1 cup
Method:
1. Pressure cook the potatoes for 5 minutes.
2. Chop the onions, green chillies and the coriander leaves.
3. Peel and mash the potatoes.
4. Add the onion, green chillies and coriander leaves to the mashed potatoes along with the spice powders.
5. Add the grated cheese and salt to the mixture.
6. Mix and knead until well blended.
7. Shape the mixture into large lime-sized balls.
8. Flatten to form cutlets or form them into any desired shapes..
9. Add a little water to the flour to form a thick paste.
10. Dip the cutlets in the paste.
11. Spread the breadcrumbs in a large plate and coat the cutlets with it.
12. Ensure its coated evenly.
13. Heat oil in a shallow frying pan and fry the cutlets until golden brown on both sides.
14. Serve hot.