Cutlet is a popular and easy to make snack item typically served as a starter/appetizer or as an evening snack.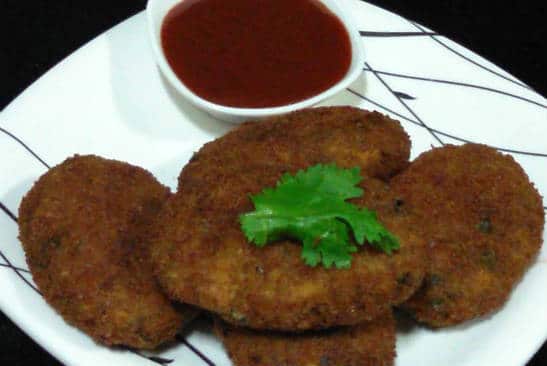 Ingredients:
Vazhaipoo (Banana Flower) – 200 gms, chopped
Potatoes – 100 gms, boiled, mashed
Maida (Plain Flour) – 1/4 cup, mixed with 1 cup of water (optional)
Onions – 100 gms
Green Chillies – 3 to 5, chopped
Ginger – 1/2 inch piece, grated
Bread Crumbs – 1 tblsp
Garam Masala Powder – 2 tsp
Black Pepper Powder – 2 tsp
Oil – 3 tblsp
Cumin Powder – 1 tblsp
Turmeric Powder – 1 tsp
Curry Leaves – handful, chopped
Coriander Leaves – handful, chopped
Salt as per taste
Method:
1. Heat oil in a pan over medium flame.
2. Add the curry leaves, green chillies, onions, turmeric powder, ginger, cumin powder, pepper powder and garam masala powder.
3. Saute for a minute or two.
4. Sprinkle a little water and add the chopped vazhaipoo.
5. Add the potatoes, coriander leaves and salt.
6. Mix well.
7. Heat oil in a deep frying pan over medium flame.
8. Remove from flame and make small/medium balls of the mixture.
9. Flatten them lightly. Dip them in the batter and dredge them in the breadcrumbs, coating evenly.
10. Add them to the hot oil and deep fry until dark, golden brown.
11. Remove and drain excess oil.
12. Serve hot with ketchup or mint chutney.