Serve as a snack, starter or as an appetizer with mint chutney or sauce.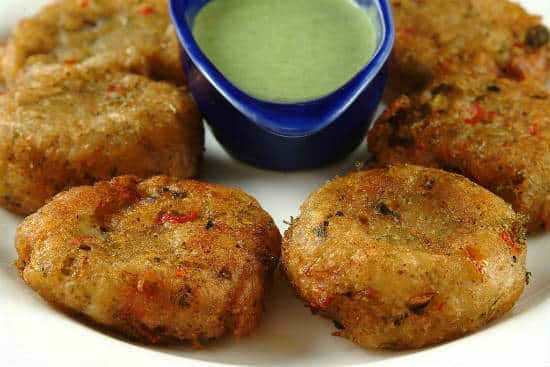 Ingredients:
Carrot – 1 cup, grated
Beans – 1 cup, finely chopped
Cabbage – 1 cup, finely chopped
Potatoes – 6 to 8, depending on size, boiled, peeled, mashed
Onions – 1/2 cup, finely chopped
Maida (Plain Flour) – 2 cups
Corn Flour – 1 cup
Ginger Garlic Paste – 2 tsp
Cinnamon – little
Cloves – little
Gasagasa – 2 tsp
Saunf – 2 tsp
Breadcrumbs – 1/2 cup
Salt as per taste
Oil as required
Method:
1. Finely powder the cinnamon, cloves, gasagasa and saunf.
2. Heat little oil in a pan.
3. Saute the onions for 2 minutes.
4. Add ginger garlic paste, carrot, beans and cabbage.
5. Cook for a minute or two. Remove from flame.
6. Add mashed potatoes, corn flour and salt.
7. Add the ground masala powder and enough water.
8. Mix well a thick, pliable dough.
9. Make small balls and shape them into cutlets of desired shapes.
10. Add some water to maida and mix to a semi-thick batter.
11. Heat oil in a frying pan.
12. Dip the cutlets in the batter and roll them in the breadcrumbs.
13. Fry them until golden brown.
14. Remove and drain excess oil.
15. Serve hot with ketchup or chutney of choice.