Cutlets are a popular snack with many variations. They are often served as a snack or as a starter.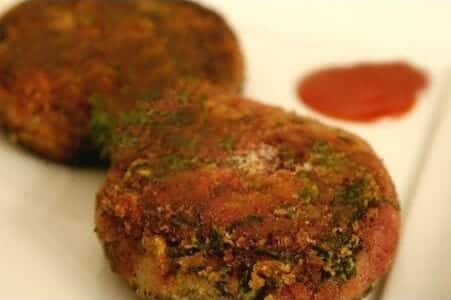 Ingredients:
Beetroots – 500 gms
Potatoes – 5 to 6 (depending on size)
Gram Flour – 200 gms
Red Chilli Powder – 1 tsp
Onions – 2, large, finely chopped
Cashew Nuts – 20 to 25, chopped
Garam Masala Powder – 1/2 tsp
Coriander Leaves – few
Breadcrumbs – 1 cup
Oil as required
Salt as per taste
Method:
1. Peel the beetroots.
2. Pressure cook the potatoes, peel and mash well.
3. Heat little oil in a pan.
4. Add the onions, garam masala powder, red chilli powder, beetroot and salt.
5. Stir-fry for a minute or two.
6. Add the cashew nuts and fry for another 30 to 45 seconds.
7. Add the mashed potatoes, coriander leaves and mix well.
8. Remove from flame.
9. Make small balls of the mixture and shape them into cutlets of desired shapes.
10. Add a little water to gram flour.
11. Add salt and mix to a semi-thick batter consistency.
12. Heat oil in a deep frying pan.
13. Dip the prepared cutlets in the batter and roll them in the breadcrumbs.
14. Gently add them to the hot oil and deep fry until light golden brown.
15. Remove and drain excess oil.
16. Serve hot with chutney and sauce.