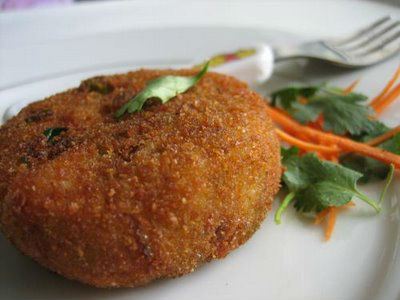 Ingredients:
Sprouted Green Gram – 2 cups
Cashewnuts – 8
Gram Flour – 4 tsp
Onion – 1, chopped
Ginger Garlic Paste – 1 tsp
Green Chillies – 5
Coriander Powder – 2 tsp
Cumin Powder – 1 tsp
Garam Masala Powder – 2 tsp
Salt as per taste
Ghee as required
Coriander Leaves – few, chopped
Curry Leaves – few, chopped
Oil as required
Corn Flour – 3 to 4 tblsp, mixed with 1/4 cup water
Breadcrumbs – 1 cup
Method:
1. Grind the green gram and green chillies together, without water, to a coarse paste.
2. Add onions, coriander powder, cumin powder, garam masala powder and mix well.
3. Add gram flour, cashenuts, coriander leaves, cumin leaves, and salt.
4. Mix well and shape into small-medium cutlets.
5. Heat oil in a pan over medium flame.
6. Dip the cutlets in corn starch and roll them in breadcrumbs.
7. Fry the cutlets till golden brown and remove.
8. Drain excess oil.
9. Alternatively, heat a tawa over medium flame and fry the cutlets on both sides till golden brown.
10. Serve hot with ketchup.
Note: image is for illustration purposes only and not that of the actual recipe.