A beautiful, delicious and flavourful snack or a dessert. Ideal for evening, tea time or school snacks.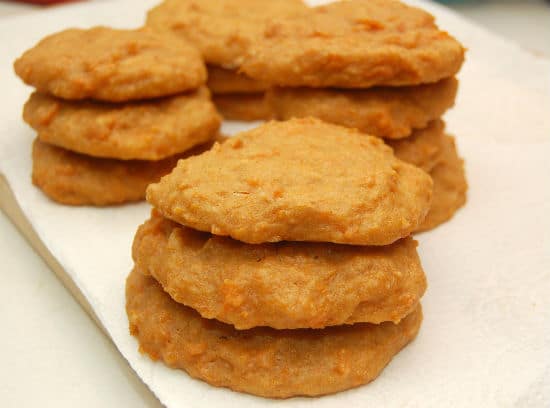 Ingredients:
Sweet Potatoes – 1 cup, cooked and mashed
Buttermilk – 1/4 cup
Maida (Plain Flour) – 1 1/2 cups
Light Brown Sugar – 3 tsp
Baking Powder – 1 1/2 tsp
Baking Soda – 1/4 tsp
Butter – 1/4 cup, unsalted
Salt – 3/4 tsp
Method:
1. Combine the maida, brown sugar, baking powder, baking soda and salt.
2. Whisk well.
3. Add the butter and mix until the mixture is crumbly.
4. Whisk the mashed sweet potatoes and buttermilk in an another bowl.
5. Add this to the flour mixture and mix well until the dough is sticky.
6. Sprinkle some flour on a flat surface and knead the dough 4 to 5 times.
7. Roll it out to 1/2 to 3/4 inch thickness and cut the dough into 2 inch rounds.
8. Place them on a baking tray lined with parchment paper.
9. Place the tray into a preheated oven at 225C/450F and bake for 10 to 12 minutes or until lightly browned.
10. Remove and cool.
11. Store it in airtight container and serve as needed.