Healthy and simple any time snack. Best served with sauce or mint chutney.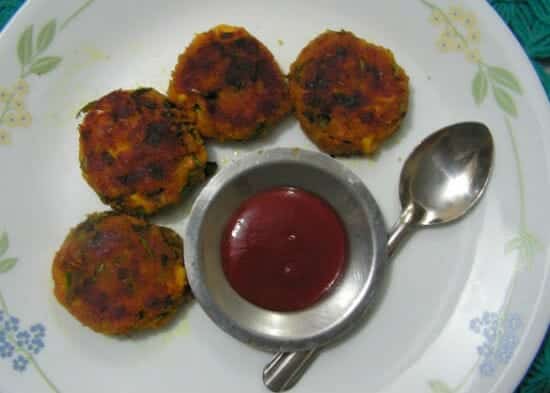 Ingredients:
Baby Corn – 250 gms
Potatoes – 125 gms
Corn Flour – 125 gms
Gram Flour – 125 gms
Gasagasa – 1 tsp
Dry Red Chillies – 2
Curry Leaves – few
Coriander Leaves – few
Onion – 1
Cumin Seeds – 1/2 tsp
Ginger Garlic Paste – 1/2 tsp
Oil as required
Salt as per taste
Method:
1. Boil the baby corn and remove.
2. Combine with red chillies, gasagasa, cumin seeds and grind to a smooth paste.
3. Boil the potatoes, peel and mash well.
4. Combine this with the corn flour and gram flour. Knead well.
5. Heat little oil in a pan.
6. Add the ginger garlic paste, onions, coriander leaves and curry leaves.
7. Saute until onions turn golden.
8. Mix the baby corn paste, potato mixture and onion mixture in a bowl.
9. Add salt and little water.
10. Mix until well combined.
11. Heat oil in a deep frying pan.
12. Make small balls of the mixture and shape them into cutlets.
13. Deep fry the prepared cutlets until golden brown.
14. Remove and serve with chutney or sauce.