A delicious and quick pasta dish for the weekday lunch or dinner.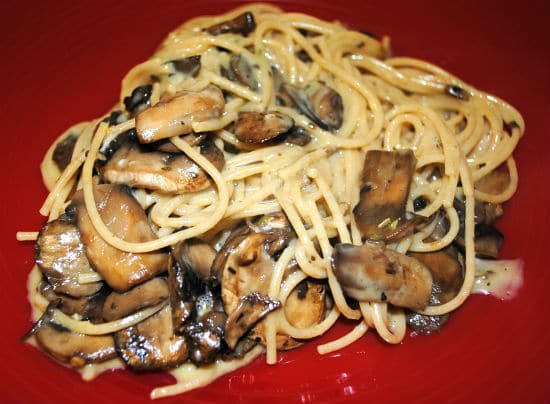 Ingredients:
Button Mushrooms – 100 gms, sliced
Spaghetti – 200 gms
Olive Oil – 3 tsp
Butter – 1 tblsp
Shallot (Sambar Onion) – 1, finely chopped
Garlic – 2 cloves, crushed
Mint Leaves – small handful, finely chopped
Parmesan Cheese – 50 gms, grated
Corn Flour – 1 tsp, mixed with warm water
Black Pepper Powder as per taste
Method:
1. Heat butter and oil in a pan over medium flame.
2. Add the onions and saute for 3 to 4 minutes or until softened.
3. Add the garlic and fry for 20 to 30 seconds.
4. Add the mint leaves and mushrooms.
5. Coook for 2 minutes or until golden and tender.
6. Cook the pasta in slightly salted boiling water for 10 minutes or until al dente.
7. Drain well.
8. Transfer the pasta to a pan and add the corn flour mixture.
9. Stir well until well combined.
10. Add the mushroom mixture and the grated cheese.
11. Mix well.
12. Sprinkle some black pepper powder.
13. Serve at once.
Tip: If needed, replace th corn flour with 1 beaten egg.