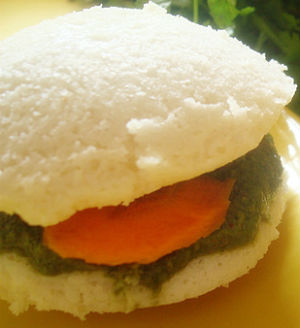 Ingredients:
Idli – 6
Green Chillies – 2
Ghee – 1 tsp
Peanuts – 1/2 cup, roasted, powdered
Coriander Leaves – 1/2 cup, finely chopped
Idli Milagai Podi – 1 tsp
Onion – 1, finely chopped
Tomatoes – 2, finely chopped
Mustard Seeds – little
Red Chilli Powder – 1/4 tsp
Oil – as required
Method:
1. Heat oil in a pan.
2. Fry the mustard seeds till it starts to splutter.
3. Heat little oil in the pan. Add onions, tomatoes, salt and red chilli powder.
4. Saute well and remove.
5. Fry the coriander leaves and green chillies together. Remove and grind to a paste.
6. Mix the idli milagai podi and peanut powder with little oil. Keep aside.
7. Slice the idlis into two halves. Apply ghee and keep aside.
8. To one half spread the coriander-green chilli paste.
9. Place another slice on top and spread the peanut-idli milagai powder on top.
10. Keep another idli slice and spread the tomato-onion mixture.
11. Cover this with another idli slice.
12. Garnish with coriander leaves.
13. Serve with chutney.
Tip: If desired, you can also add sliced carrots, capsicum and cucumber.
image credit: flickr