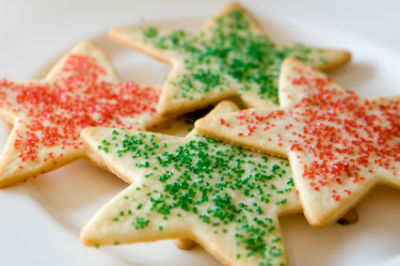 Ingredients:
Maida – 175 gms
Ground Ginger – 1 1/2 tblsp
Soda Bicarb – 1/2 tsp
Butter – 3 1/2 tblsp, softened
Brown Sugar – 5 1/2 tblsp
Egg – 1, small, beaten
Honey – 2 tblsp
Icing Sugar – 1 tsp
Lemon Juice – 1 tbslp

Method:
1. Sift together flour, ginger and soda bicarb in a bowl.
2. Add the butter and rub till the mixture resembles breadcrumbs.
3. Add the brown sugar and gently mix.
4. In another bowl beat the honey and egg together and pour it into the flour mixture.
5. Knead well to make a smooth dough.
6. Roll the dough on a lightly floured surface and cut into desired shapes.
7. Place them on a baking tray lined with sheet.
8. Keep the tray in a preheated oven at 180C for 10 minutes or until golden brown.
9. Remove and cool.
10. Mix the icing sugar and lemon juice till smooth.
11. Place them into a piping cone with a fine nozzle.
12. Spread the icing on each cookie and keep aside to set for 60 to 90 minutes.
13. Serve when set.
Tip: You can also decorate the cookies with small gems or candies or sugar.
Note: image is for illustration purposes only and not that of the actual recipe.
Image credit: letoilerestaurant.