A popular and simpe homemade Veg Cheese Burger, this is typically served as a snack or evening tiffen and is popular with kids and adults alike. Best served with french fries and ketchup.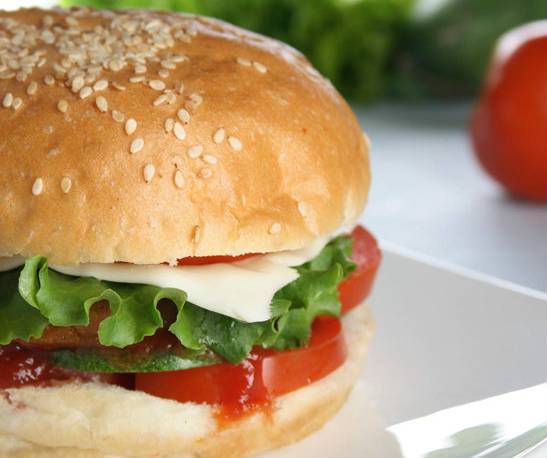 Ingredients:
Burger Buns – 4 to 5, halved
Potatoes – 4 to 5, boiled, peeled, mashed
Cheese Slices – 4 to 5 (available readymade)
Capsicum – 1, finely chopped
Carrot – 1, small, finely chopped
Sweet Corn Kernels – 2 to 3 tblsp (optional)
Onion – 2, finely chopped
Cabbage – 100 gms
Butter – 1 tblsp
Oil – 2 tsp
Salt as per taste
Black Pepper Powder
Tomato Sauce – little
Tomato – 1, finely sliced
Onion – 1, finely sliced
Cucumber – 1, medium, sliced
Method:
1. Heat oil in a pan over medium flame.
2. Add the onions, carrot, capsicum and saute for a minute or two.
3. Add little tomato sauce and stir well.
4. Remove and add this to the mashed potatoes.
5. Sprinkle a little salt and pepper powder.
6. Mix well and shape the mixture into 4 to 5 round patties.
7. Heat little butter in a nonstick pan.
8. Add the prepared patties and fry for 30 seconds on both sides or until lightly browned
9. Add a cheese slice on top, cover with a lid and cook for another 30 seconds or until it starts to melt.
10. Lightly warm the burger buns and spread butter on one half of the burger buns.
11. Add some cabbage, 1 tomato, cucumber and onion slice on top.
12. Place the cooked burger patty with the cheese on top.
13. Sprinkle a bit of pepper powder and top up with some sauce if desired.
13. Cover with the other half of the bun.
14. Serve with french fries.