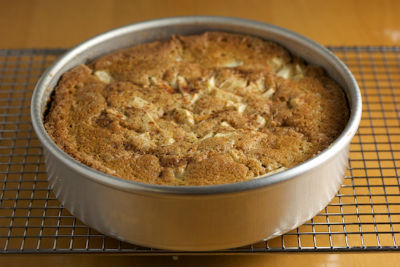 Ingredients:
Apples – 200 gms, peeled, cored, grated
Cinnamon – 1/2 tsp, ground
Light Brown Sugar – 125 gms + bit more for sprinkling
Butter – 125 gms, soft
Eggs – 2, small
Walnuts – 50 gms, chopped + more for garnish
Sultanas – 50 gms
Maida – 125 gms
Baking Powder – 1 tsp
Icing Sugar for dusting
Method:
1. Combine butter, sugar, eggs, walnuts, sultanas, maida and baking powder in a bowl.
2. Beat until well blended.
3. Spoon half the mixture into a greased round cake tin lined with parchment.
4. Add the apple and cinnamon. Spread evenly.
5. Spoon the remaining mixture on top and sprinkle with light brown sugar and walnuts.
6. Place the in a preheated oven at 180C for about 1 hour or until the cake is well risen and golden brown.
7. Remove and cool.
8. Remove the parchment and dust with icing sugar.
9. Serve.
image credit: pinch my salt