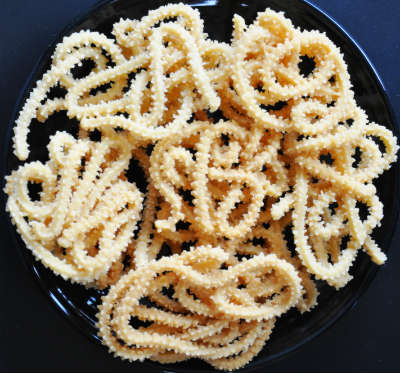 Ingredients:
Raw Rice – 250 gms
Bengal Gram Dal – 250 gms
Moong Dal – 250 gms
Butter – 1 tsp
Salt – 1 1/2 tsp
Asafoetida Powder – 1/2 tsp
Cumin Seeds – 1 1/2 tsp
Oil – 250 ml
Water as required
Method:
1. Dry roast the dals separately till golden and remove.
2. Combine them together and grind to a fine powder.
3. Grind the rice separately.
4. Sieve them separately and keep aside.
5. For 1 cup of rice flour, add 3 cups of dal flour and mix well.
6. Add salt, asafoetida powder, cumin seeds, butter and mix well to a thick dough.
7. Add some of the dough to a thenkuzhal maker with the mullu (spiky) plate.
8. Heat oil in a deep frying pan.
9. Squeeze the dough over hot oil and fry till light golden brown.
10. Remove and drain excess oil.
11. Serve as a snack.
12. Store in an airtight container.