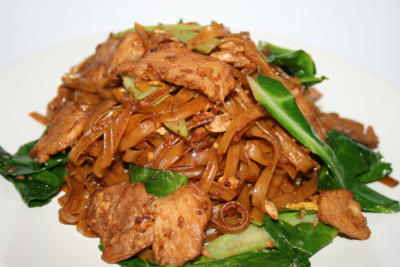 Ingredients:
Chicken – 150 gms, boneless, skinless, sliced
Noodles – 100 gms, soaked in boiling water for 10 minutes and drained
Spinach (or Green Cabbage Leaves) – 100 gms, chopped
Sweet Soy Sauce – 2 tblsp
Light Soy Sauce – 1 tblsp
Oyster Sauce (or Worcestershire sauce) – 1 tblsp
Vinegar – 3/4 tblsp
Brown Sugar – 1/2 tblsp
Garlic – 1/2 tblsp, minced
Egg – 1
Oil – 2 tblsp
White Pepper Powder as per taste
Salt as per taste
Method:
1. Mix the light soy sauce, sweet soy sauce, oyster sauce, vinegar and sugar in a bowl.
2. Keep aside.
3. Heat 1 tblsp oil in a frying pan.
4. Sprinkle salt on the chicken and fry until lightly browned.
5. Remove and keep aside.
6. Add the remaining oil to the pan.
7. Saute the garlic for 30 seconds.
8. Add the chicken and noodles.
9. Add the soy sauce mixture and stir to mix well.
10. Cook until the ingredients are well combined.
11. Break the egg in the centre and scramble.
12. Stir well when the eggs are set.
13. Add salt and pepper. Mix well.
14. Add the spinach leaves and cook till they start to wilt.
15. Remove and serve hot.
Tip: For a vegetarian version, omit the chicken and substitute oyster sauce with worcestershire sauce.
image credit: nidathaifoods.wordpress.com