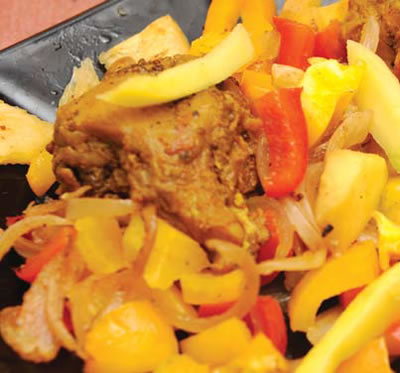 Ingredients:
Chicken Breasts – 6, boneless
Oil – 3 tblsp
Onion – 1/2, cut into chunks
Red Capsicum – 1/2, cut into chunks
Green Capsicum – 1/2, cut into 1 inch strips
Green Mango – 1/2, rupe, peeled, pitted, slivered
For marinade:
Sugar – 1/2 tsp
Salt – 1/2 tsp
Black Pepper Powder – 1/2 tsp
Cornstarch – 1 tsp

For sauce:
Tomato Ketchup – 2 tblsp
Chilli Sauce – 2 tblsp
Oyster Sauce – 1 tblsp
Worcestershire Sauce – 1 tblsp
Honey – 1 tsp
Water – 2 tblsp
Balsamic Vinegar – 1 tsp
Sugar as per taste
Salt as per taste
Method:
1. Mix all the marinade ingredients in a bowl.
2. Apply the marinade on the chicken pieces and keep aside for 20 minutes.
3. To make the sauce, mix all the sauce ingredients and keep aside.
4. Heat 1 tblsp of oil in a pan.
5. Stir-fry the onions, capsicums till lightly charred.
6. Keep aside.
7. Heat 2 tblsp of oil in another pan.
8. Add the marinate chicken, slivered mango and cook for a minute.
9. Cover pan with a lid and simmer for 2 minutes over medium heat.
10. Add the sauce and stir well.
11. Bring to a boil.
12. Cover the pan again and simmer till the chicken is cooked.
13. Serve hot.