Pad Thai (or Thai Stir-Fried Noodles) is a very popular street food of Thailand. A staple dish of Thailand, it is delicious, simple and easy to make. For a vegetarian version, omit the egg, shrimps and replace fish sauce with lemon juice.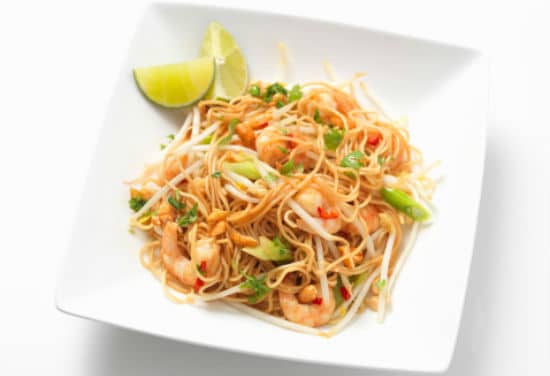 Ingredients:
Plain Rice Noodles – 100 gms
Oil – 4 tsp
Garlic – 1 clove, minced
Shrimps (or Prawns) – 100 gms, shelled, deveined
Tofu – 50 gms, cut into pieces
Egg – 1, lightly beaten
Red Chilli Flakes – 1 tsp
Bean Sprouts – 100 gms (optional)
Spring Onions – 1 or 2, chopped
Peanuts – 2 tsp, crushed, chopped
Lime Wedges
Tamarind Extract – 1 tblsp
Coriander Leaves – handful, chopped, to garnish
For the Sauce:
Fish Sauce – 1 1/2 tblsp
Soy Sauce – 1/4 tblsp
Tamarind Extract – 2 tblsp
Red Chilli Powder – 3/4 tsp
Sugar – 1 1/4 tblsp
Water – 1 1/2 to 2 tblsp
Method:
1. Heat little oil in a pan.
2. Fry the tofu pieces until light golden brown and remove.
3. Cook the noodles as per packet instructions. Drain well and keep aside.
4. Mix all the sauce ingredients in a bowl.
5. Heat oil in a pan over medium flame.
6. Stir-fry the garlic for a minute.
7. Add the fried tofu and shrimps.
8. Cook until the shrimp starts to change colour.
9. Add the noodles and red chilli flakes. Stir well for 30 to 45 seconds.
10. In a nonstick pan, heat little oil and add the eggs.
11. Cook until the bottom sets and add to the noodles pan.
12. Stir until well combined.
13. Add the spring onions and bean sprouts. Stir once or twice.
14. Garnish with peanuts and coriander leaves.
15. Serve with lime wedges.
Tip: Some supermarkets sell a variety of noodles as "Pad Thai Noodles".