Can you imagine Italian food and not think of an appetizing warm plate of pasta and some great wine to gulp it down? Impossible, right?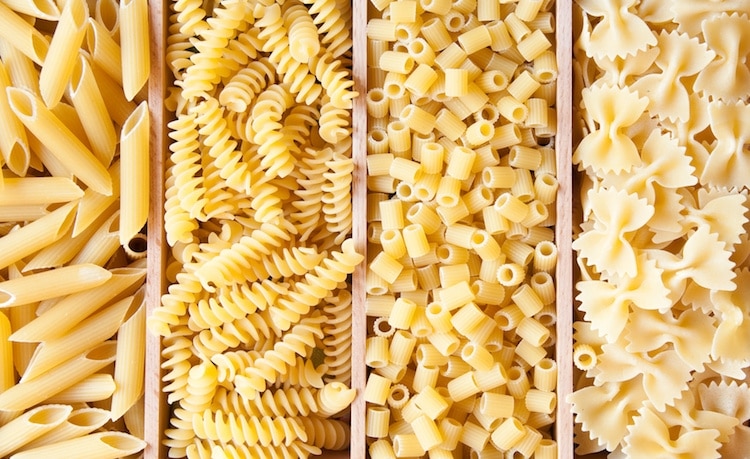 Here we give you a lowdown on how to get your perfect plate of pasta each time you cook.
Basics:
The art of cooking pasta: Although it may seem rather simple, there may be times when your pasta cooking session ends up in uneven lumps and floppy outcomes. Follow and stick to these tips in order to avoid it.

To prevent the pasta from sticking, always use a large vessel with adequate amount of water.
Make sure the water has boiled well before adding the pasta.
When you place the pasta in the water, the starch particles on the pasta start swelling up making the surface very sticky. To avoid the pasta from sticking, gently start stirring it in the beginning itself.
Add a tad bit more salt than the bite-size, as salt helps make the surface slightly rough so that it does not stick.
Refrain from rinsing the pasta soon after it is cooked, as rinsing may wash away all its delightful flavors. Instead, place it in a strainer or sieve to let the surplus water drain.

Know your pasta sauce: The secret behind every perfect plate of your favorite pasta is a great sauce. Needless to say, nothing beats a fresh, homemade pasta sauce. Another important aspect of the pasta recipe is that it is different from region to region like, the use of white sauce, sauces like carbonara, arrabbiata and tomato differs from each region.

Sauces that are tomato based stick well to round pastas. Use a little of olive oil in your tomato based sauces to add some rich texture to the sauce. If your sauce turns too sour, try adding a little pinch of baking soda. Keep stirring the sauce often to prevent it from sticking.
Cream based sauces are better with flat pastas.
Remember, you must always add the pasta to the sauce and not vice versa.
Add some of the leftover pasta water into the sauce to enhance the flavor. The starchiness will help bind the sauce.
Traditional pasta is by no means too saucy. Keep in mind that your sauce should be just enough to coat your favorite pasta.
You may even include pureed vegetables in your sauce for all those picky eaters in your family, especially the little ones.
Now that you know the art of cooking your pasta and the secret behind preparing your favorite pasta sauce, go ahead and try all of these mouth-watering pasta recipes:
Four Cheese Pasta: This creamy and rich recipe prepared with four different varieties of cheese – Cheddar, Emmental, Parmesan, and Brie gives an international style to the ultimate comfort food. Your pasta couldn't get any cheesier than this – sounds like a dream come true!
Home-Style Baked Pasta: With the home-style baked pasta recipe, you could never go wrong. Your favorite pasta in layers of cheese, mingled with fresh veggies, and some tangy tomato puree/sauce, topped with some breadcrumbs and baked till golden and magnificent.
Lasagna: Lasagna is probably one of the oldest and first types of pasta, which originated in Naples, Italy. Lasagna is all about the layering (gorgeous meat and cheesy explosion layer after layer) and it becomes even easier when you start with an already made delicious sauce. Did anyone say pure bliss?
Penne Alla Vodka: A recipe that has always been known as a crowd pleaser for all times! Toss your favorite appetizing penne pasta with cheese, onions, crushed tomatoes, heavy cream and sometimes sausage or peas and of course a splash/dash of vodka. Don't worry about getting tipsy from the vodka as most of the alcohol gets burnt out in the process of cooking.
Indian Style Masala Pasta: Use any pasta of your liking. For the masala, use cumin seeds, garlic, red chilly powder, pav bhaji masala or garam masala. Add some carrots, tomatoes, peas, onions and capsicum. You may add more veggies like baby corn, cauliflower or broccoli florets, etc. Add the cooked pasta and toss well. Garnish with coriander leaves and serve hot.
Pasta in Red Sauce: A simple dish usually made with penne and red sauce; using red bell peppers and tomatoes (canned or pureed) for the sauce. You can also add onions for variety. You can give this dish a twist by adding some vegetables or cooked chicken chunks or shreds. For vegetarians, try replacing chicken with soya nuggets/chunks and the taste would be just as awesome!
A delicious plate of pasta is the ultimate comfort food and can most certainly come to your rescue on some of those super busy weeknights. Just toss in your favorites, sprinkle some cheese, simmer the sauce, and you are good to go. Even the most finicky eaters wouldn't shy away from a beloved plate of pasta. Time to take your pasta passion to newer heights!