A popular Noodle variety in Singapore and Hong Kong, this stir-fried noodles is easy and quick to make. There are numerous variations to this dish, including a vegetarian version, with different varieties of noodles or with pork instead of chicken.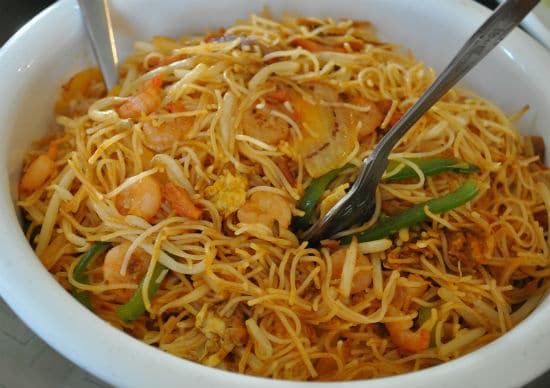 Ingredients:
Rice Vermicelli (or Plain Rice Noodles) – 100 gms
Chicken Breast – 1/4 cup, boneless, skinless, chopped or cut into thin strips
Shrimps – 100 gms, shelled, deveined
Garlic – 1 clove, minced
Onion – 3 tblsp, sliced
Red Capsicum – 3 tblsp, sliced
Egg – 1, lightly beaten
Bean Sprouts – 100 gms
Spring Onions – 100 gms, chopped
Corn Flour – 1/4 tsp, mixed with 1/4 tsp water
Oil – 4 tsp
For the Sauce:
Oyster Sauce – 1/2 tblsp
Curry Powder – 3 tsp
Soy Sauce – 3/4 tblsp
Sugar – 1 tsp
Water – 100 ml
Method:
1. Soak the rice vermicelli in warm water for 10 to 20 minutes or until soft.
2. Drain and keep aside.
3. Pour the corn flour mixture over the chicken pieces and mix well until coated.
4. Mix all the sauce ingredients in a bowl.
5. Heat 3 tsp oil in a pan over medium flame.
6. Saute the onions, capsicums and garlic for a minute.
7. Add the shrimps and chicken pieces.
8. Cook until they start to change colour.
9. Add the vermicelli and stir-fry for a minute.
10. In a nonstick pan, add 1 tsp oil and add the egg.
11. Cook until the bottom sets and transfer to the noodles.
12. Add the sauce and stir well.
13. Cook for another minute or two, stirring from time to time.
14. Garnish with spring onions and bean sprouts.
15. Serve.