Khakras are a popular Gujarati snack dish consumed during tea time or in the evening. Khakra Chaat is a tasty addition where the khakras are topped with onions, paneer, green peas, sweet corn and spices.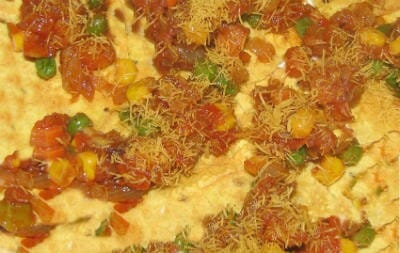 Ingredients:
Khakhra – 6 (available in supermarkets )
Onions – 1/2 cup, finely chopped
Paneer – 1/4 cup, grated
Green Peas – 1/4 cup, boiled
Sweet Corn Kernels – 1/4 cup, boiled
Sugar – 1 tsp
Red Chilli Powder – 1 tsp
Green Chillies – 1/2 tsp, finely chopped
Sev as required for garnish
Salt as per taste
Tomato Sauce as required
Coriander Leaves – 2 tblsp, finely chopped
Method:
1. Break the Khakhra into 4 pieces and place them on a large plate.
2. Spread the tomato sauce on each of the kakras.
3. Scatter the onions, paneer, gren peas, sweet corn kernels, sugar, red chilli powder, green chillies and salt.
4. Garnish with coriander leaves and sev.
5. Serve at once.