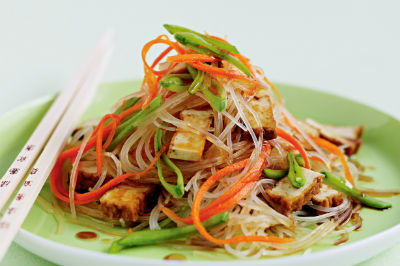 Ingredients:
Chicken – 175 gms, ground
Shrimp – 125 gms, medium, peeled, deveined
Sunflower or Canola Oil – 1 tblsp
Cellophane Noodles – 75 gms, soaked in water, drained and cut into small-medium pieces
Juice of 1 Lime
Fish Sauce – 2 tblsp
Sugar – 1/2 tblsp
Red Onion – 2 tblsp, chopped
Coriander Leaves – handful, chopped
Mint Leaves – handful, chopped
Jalapeno – 1, small, sliced into rings
Red Lettuce – 1 1/2 cup, torn into small pieces

Method:
1. Heat oil in a small frying pan and saute the chicken for 2 minutes.
2. Remove and drain.
3. Bring a pan of water to a boil and poach the shrimps until pink over low flame.
4. Drain and cool.
5. Cut them into half and transfer them to a bowl.
6. Add the chicken to the bowl and keep aside.
7. Heat a pan of water and bring to a boil.
8. Cook the noodles for a minute or two and drain.
9. Rinse under cold water and drain well.
10. Combine the lime juice, fish sauce and sugar.
11. Stir well till the sugar has dissolved.
12. Add the noodles, onions, coriander leaves, mint leaves and jalapeno to the bowl.
13. Spoon over the dressing and mix well.
14. Place the lettuce on a plate and add the salad on top.
15. Serve.