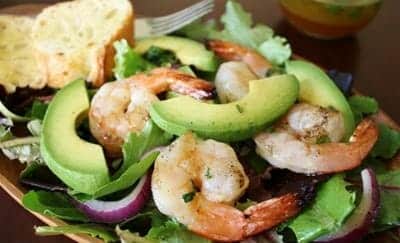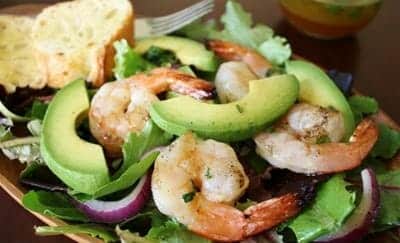 Ingredients:
Shrimps – 12, medium, peeled, deveined (about 225 to 250 gms)
Avocado – 1, small, chopped
Zucchini – 1, small, chopped
Parsley Leaves – 2 tblsp, chopped
Garlic – 1 small clove, minced
Zest of 1 Lemon – grated
Soy Sauce – 1 tblsp
Extra-Virgin Olive Oil – 2 tblsp
Salt as per taste
Black Pepper Powder as per taste
For the dressing:
Lemon Juice – 1 tblsp
Honey – 1 to 2 tsp
Dijon Mustard – 1/2 tsp
Extra-Virgin Olive Oil – 1 tblsp
Salt as per taste
Black Pepper Powder as per taste
Method:
1. Mix olive oil, soy sauce, garlic, lemon zest, salt, parsley and pepper powder in a bowl.
2. Add the shrimps and toss well.
3. Keep the bowl in the fridge for 30 to 40 minutes.
4. Heat 1 tsp oil in a pan and stir-fry the zucchini for 3 to 4 minutes.
5. Transfer to a plate.
6. To the same pan, add the marinated pan and cook till pink, about 2 to 3 minutes on each side.
7. Remove, cool and cut into small pieces.
8. Mix the avocado, zucchini and shrimp pieces in a bowl.
9. Mix the dressing ingredients and pour over the salad.
10. Gently toss till well combined.
11. Serve at once.