Beans Paruppu Usili is a popular recipe in TamilNadu especially amongst the brahmin communities. They are often served with rice as part of a traditional lunch menu.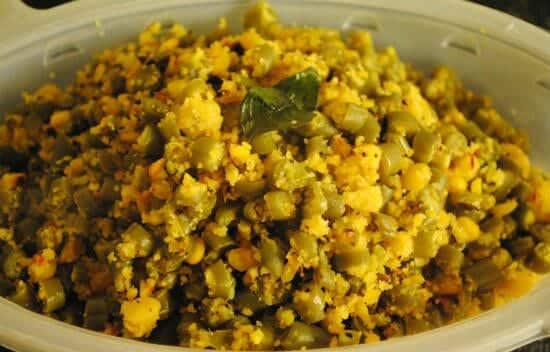 Ingredients:
Red Gram Dal – 1 cup
Dry Red Chillies – 4 to 5
Salt to taste
Asafoetida Powder – 1/4 tsp
French Beans – 1/2 kg, chopped fine
For Tempering:
Mustard Seeds – 1 tsp
Bengal Gram Dal – 1 tsp
Black Gram Dal – 1 tsp
Dry Red Chilli – 1, halved
Cumin Seeds – 1/2 tsp
Curry Leaves – few
Method:
1. Soak the red gram dal and the red chillies in water for an hour.
2. Drain and grind to a smooth paste, adding salt and asafoetida powder. Set aside.
3. In a heavy frying pan, cook the beans till tender, adding very little water.
4. Remove beans from pan and set aside.
5. In the same pan heat 2 tblsp of oil and add all the ingredients for tempering.
6. When the mustard seeds splutter, add the red gram dal paste and fry on low heat stirring occasionally, till the mixture is well cooked and crisp.
7. Add the cooked beans and fry for a couple of minutes for the flavours to blend.
8. Serve hot.