Are you interested in spicy and aromatic food items? Do you have a taste for strong flavors, pastes and sauces? Explore the cuisine of Thailand and you will find innumerous variety of food to satisfy your tasty buds and love for food. The fundamental taste sense like sweet, salt, bitter and spicy are fulfilled in culinary traditions of Thai cuisine and you can feel the finesse and richness of preparation of the Thai recipes.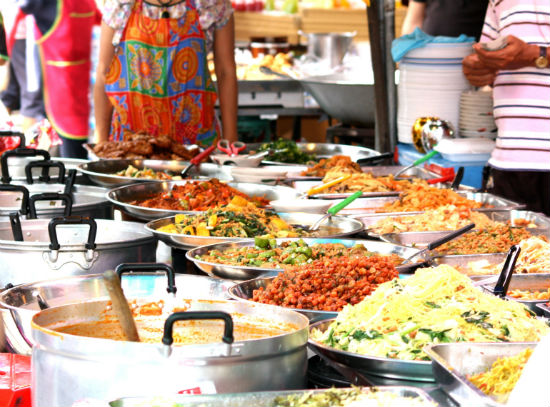 The Culture Reflected in the Thai Cuisine
As all of us know, food plays a major role in every country's culture. More so in the case of Thailand. In this country, social occasions evolve mainly to party and share food. And the beauty of the situation is that the Thai people do not order individually but order for the whole lot of diners. They share the food and enjoy the occasion. They hate wasting the food as it is an offence, enraging the God of rice. They love simple desserts like fresh fruits or rice cakes. They have a flair for snacks which are cheap to buy like soups, salads, vegetables with a spicy dip and spring rolls.
Historic Influence on Thai Cuisine
You and I know that any country has its influence of food and culture from the neighboring countries. Thailand is no exception to this rule, you know. The four regional cuisines of Thailand, North, Northeast, South and Central have a tremendous influence of the neighbors like Burma, Vietnam, Cambodia and Malaysia. Thai in ancient days was considered as the seat of Siamese cuisine and the later introduction of Chinese influence can be felt in the noodles category of Thai cuisine. Indian curry too has its major influence on Thai curry varieties. Anyhow, it goes without saying that all these influences combined together have made Thai food richer in flavor, taste and details.
Traditional Delicacies of Thailand
Try Curry noodles, pork curry, spicy pork sausage, green papaya salad, spicy minted meat, grilled chicken, hot and sour sauce of Thai traditional ones and you enjoy the yummy taste and savor of typical cuisine of Thailand. Dipping sauce is their most traditional one which is a table addition like pepper and salt. It is a spicy fish juice, much preferred by the people of Thailand. You can relish the intake of rice and coconut as main ingredients in the food of Thailand.
Unique Recipes
Spicy shrimp soup- a blend of lemongrass, chili, lime juice, shallots, galangal, lime leaves and fish sauce- a mixture of sour, spicy and hot tastes
Spicy green papaya salad-a taste of garlic, chilies, cherry tomatoes, green beans and shredded raw papaya-unique in taste and different in flavor
Red curry– tremendous taste with morsels of meat dipped in coconut milk and red curry paste, garnished with lime leaves- a wonderful delight of Thai delicacy
Chicken in coconut soup-a medley of chilies, galangal, crushed shallots, stalks of lemon grass and strips of chicken- rare in taste and splendid in aroma
Thai style fried noodles– a clever combination of noodles of your choice with green bean sprouts, onion and egg to the side accompaniments of sugar, fish sauce, chili powder and groundnut powder.
Spicy beef salad– It is a fine mix of coriander, lime, onion, spearmint, chili and strips of beef-delicacy-excellent for its different mix and quintessential aroma.
Cuisine for Religious Occasions and Holidays
Taste Thai egg rolls made of rice noodles, pork, beef, vegetables and eggs which are the unbeaten traditional dish for the New Year celebrations in this country. Thai coconut custard is one more dish for religious occasions that awakens your tasty buds and make you come out of your slumber to relish the dish.
Enter the wonderland of Thai delicacies and experience the richness of flavor, uniqueness of taste, variety of food and the medley of spices and aromas. Also experience the ceremonious serving of food by the people of Thailand, who are noted for their royal patronage in their hospitality to others.
---
image credit: wanderfulescapades.com