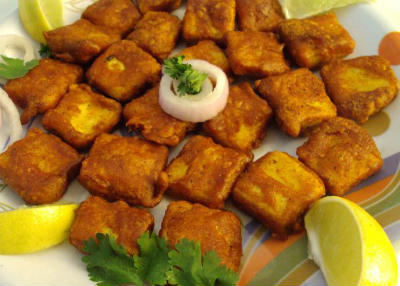 Ingredients:
Paneer – 500 gms, cubed
Turmeric Powder – 1 tsp
Red Chilli Powder – 1 tsp
Gram Flour – 2 cups
Ajwain – 1/2 tsp, coarsely pounded
Cold Water – 4 cups
Salt as per taste
Oil as required

Method:
1. Add the turmeric powder, red chilli powder, 1/2 tsp salt and 2 tsp oil in a bowl.
2. Mix well to a thick paste.
3. Add the paneer cubes and coat them evenly with the paste.
4. Keep aside.
5. Add the gram flour to a new pan.
6. Add 1 tsp salt and ajwain. Mix well.
7. Add 2 cups of water and mix well to a thick paste.
8. Add 2 more cups of water and mix. Ensure no lumps remain.
9. The batter should be semi-thin and well mixed.
10. Keep the batter in the fridge for 15 minutes, covered with a lid.
11. Remove and stir well.
12. Heat oil in a deep frying pan over medium flame.
13. Dip the marinated paneer pieces in the batter. Allow the excess batter to drip off and ensure the paneer is well coated with the batter.
14. Add them to the hot oil and deep fry until golden and crisp.
15. Remove and drain excess oil.
16. Serve hot with chutney.
image credit: kukuchku.com