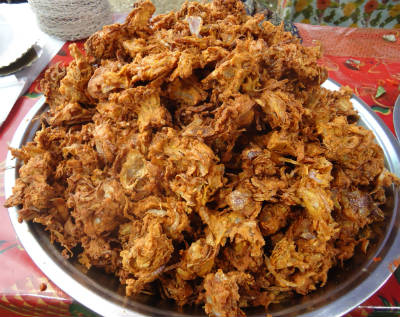 Ingredients:
Onion – 1, big, chopped lengthwise
Besan Flour – 1/2 cup
Rice Flour – 2 tblsp
Red Chilli Powder – 1/4 tsp
Garlic – 25 cloves (optional), peeled, finely chopped
Ginger – 1/2 inch piece, peeled, finely chopped
Saunf – 1/4 tsp, powdered
Curry Leaves – few, chopped
Salt as per taste
Oil as required for deep frying
Method:
1. Add salt to the onions and keep them aside for 10 to 15 minutes.
2. Squeeze the onions and drain excess water. Transfer them to a bowl.
3. Add rice flour and mix gently.
4. Add ginger, garlic, curry leaves, red chilli powder, saunf, salt and curry leaves.
5. Mix well.
6. Add besan and mix gently till all the onions are coated with the flour.
7. Heat a deep frying pan over medium flame.
8. Drop handfuls of the onion mixture and fry till golden brown.
9. Remove and drain excess oil.
10. Serve as a snack or as a side dish to rice.