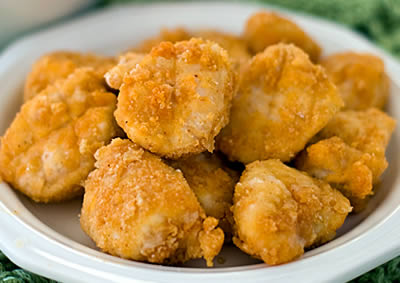 Ingredients:
Chicken Fillets – 200 gms, cubed
Flour – 2 1/2 tblsp
Egg – 1, small
Water – 1 to 2 tblsp
Breadcrumbs – 1/3 cup
Oil for deep frying
Salt as per taste
Black Pepper Powder as per taste
For the Buffalo Sauce:
Hot Sauce – 1/4 cup
Butter – 1/4 cup, melted
For the Cheese Dressing:
Mayonnaise – 2 1/2 tblsp
Sour Cream – 2 1/2 tblsp
Salt as per taste
Black Pepper Powder as per taste
Lemon Juice – 2 to 3 tblsp or as required
Cheese – 2 1/2 tblsp, crumbled
Method:
1. Sprinkle salt and pepper on the chicken pieces.
2. Keep aside for 30 to 45 minutes.
3. Mix the hot sauce and butter in a bowl. Keep aside.
4. Blend together the mayonnaise, sour cream and half of the cheese until smooth.
5. Sprinkle salt and pepper, the remaining cheese and lemon juice. Mix well.
6. Beat the egg and mix with the water in a bowl.
7. Dredge the chicken pieces in the flour and dip them in the egg mixture.
8. Roll them in breadcrumbs.
9. Heat oil for deep frying.
10. Deep fry until golden brown and remove.
11. Drain excess oil.
12. Serve with buffalo sauce and cheese dressing.