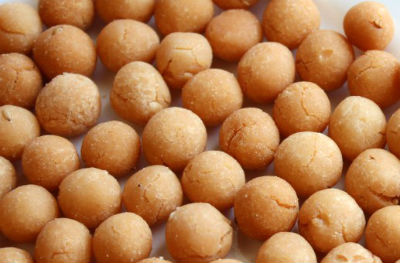 Ingredients:
Rice – 200 gms
Ponnanganni Keerai (Spinach) – handful, chopped
Mint Leaves – handful, chopped
Pepper Powder – 1 tsp
Cumin Seeds – 1 tsp
Curry Leaves – few, finely chopped
Butter – 1 tsp
Oil – 250 ml
Salt as per taste
Method:
1. Soak the rice for an hour and drain.
2. Keep aside to dry. Do not keep under direct sunlight.
3. Then grind to fine powder in the mixie.
4. Dry roast in a pan for 30 to 60 seconds and remove to a bowl.
5. Add pepper powder, cumin seeds, salt, curry leaves and butter.
6. Mix well.
7. Add mint and spinach leaves.
8. Sprinkle a little water and mix to a thick dough.
9. Make small seedais and keep aside.
10. Heat oil for frying in a deep pan.
11. Fry the prepared seedais till light golden.
12. Remove and drain excess oil.
13. Serve as a snack.
Note: image is for illustration purposes only and not that of the actual recipe.