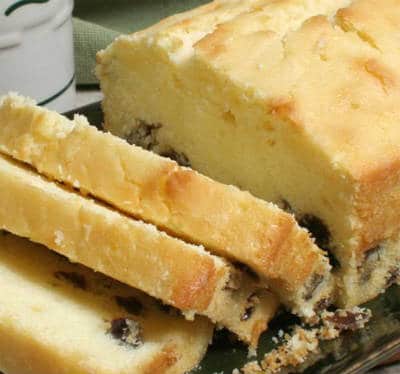 Ingredients:
Unsalted Butter – 4 tblsp + little bit more
Granulated Sugar – 1/2 cup
Egg – 1
Vanilla Extract – 3/4 tsp
Maida – 100 gms
Whole Milk – 1/4 cup
Icing Sugar – 2 tblsp for dusting
Baking Powder – 1 tsp
Salt – 1/4 tsp
Raisins – handful (optional)
Method:
1. Combine the butter and sugar in a bowl.
2. Whisk well until light and fluffy.
3. Add the egg, vanilla, maida, baking powder, raisins and salt, one by one.
4. Mix well and add the milk.
5. Pour the batter into a buttered cake pan and place it in a preheated oven at 350F/175C.
6. Bake for 30 minutes or until the top is golden brown.
7. To check if the cake is done, insert a toothpick or a skewer into the center and if it comes out clean, the cake is done.
8. Remove and cool.
9. Sprinkle icing sugar on top.
10. Slice and serve.
11. Can be stored for up to 5 days in an airtight container.