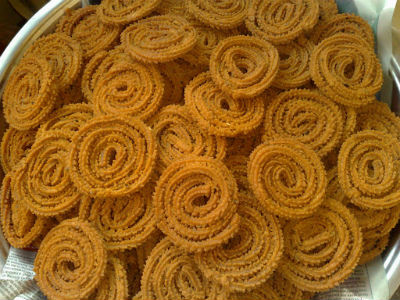 Ingredients:
Rice flour – 3 cups
Fried gram or bhuna chana (used to make chutneys) – 1 cup
Red chilly powder – 1 tsp
Cooking butter – 1/2 cup melted
Cumin seeds – 2 tsps
Table Salt – according to taste ( 2 levelled tsps approx.)
Asafoetida powder – 1/2 tsp
Water for mixing together
Oil for deep frying
Murukku or chakli maker
Method:
Grind the fried gram to a fine powder.
Sift the fried gram powder & rice flour together. Add salt, asafoetida powder, chilly powder & cumin seeds. Mix all this properly. Then add the melted butter & mix properly. Then add water little by little to make it into a stiff dough.
Take sufficient oil in a kadhai to deep fry this chakli. The oil should be just hot enough.
Test the temperature of the oil by putting a drop of batter in the oil. The batter should immediately surface to the top bubbling up. This is the right temp. Simmer the gas from now on.
Take a little batter & put it in the chakli mould & squeeze it directly in the oil to form a small round shape or alternatively you can also squeeze it to a round shape on a butter paper or plastic sheet & put it in the oil. If the batter is too thick add a little water to loosen it up. You should be able to squeeze the batter comfortably from the mould. Fry the chaklis till they become slight golden brown & remove it on a tissue paper to remove excess oil.
There will be many types of moulds in the chakli maker. You can use the star shaped one or the plain round one.
NOTE: You can add some more butter or a few tsps of hot oil from the kadhai if the chaklis become very hard.
Note: image is for illustration purposes only and not that of the actual recipe.