A popular Punjabi paratha stuffed with paneer. Best served with curd and pickle.  Quick and easy to make, it makes for a delicious lunch or dinner.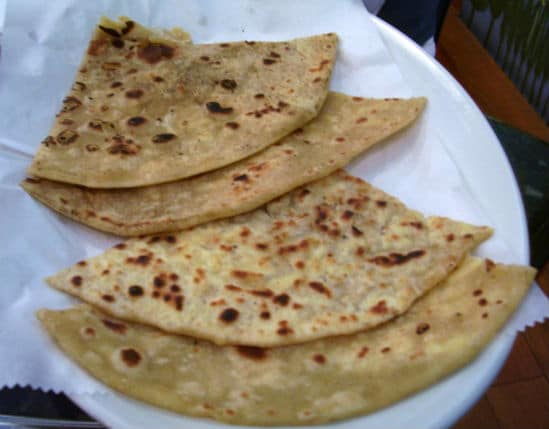 Ingredients:
Wheat Flour – 250 gms
Maida – 250 gms
Paneer – 200 gms, crumbled
Green Chillies – 4, ground to a paste
Garam Masala Powder – 1 tsp
Coconut – 2 tsp, grated
Onions – 2, chopped
Turmeric Powder – a pinch
Oil as required
Coriander Leaves – few, chopped
Salt as per taste
Ghee as required

Method:
1. Combine the wheat flour, maida, salt and ghee in a bowl.
2. Knead well to a thick, pliable dough.
3. Heat little oil in a pan.
4. Saute the onions for 2 minutes.
5. Add the paneer and stir well.
6. After a minute, add coconut, garam masala powder, turmeric powder, coriander leaves, green chilli paste and salt.
7. Stir-fry for a minute or two.
8. Make small balls of the dough and shape them into small cups.
9. Add 1 or 2 tsp of the paneer mixture and fold well.
10. Roll them into small/medium parathas.
11. Heat a tawa over medium flame.
12. Cook the prepared parathas on both sides and remove.
13. Serve hot with curd and pickle.