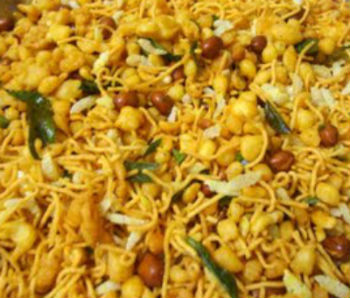 Ingredients:
Besan Flour – 1 1/2 cups
Rice Flour – 1 1/2 cups
Butter – 1 tsp
Salt as per taste
Aval (Poha) – 1/4 cup
Roasted Gram – 1/4 cup
Ground Nuts – 1/4 cup
Cashew Nuts – 1/4 cup (fried in little ghee)
Red Chillies – 2
Curry Leaves – few
Oil for frying

Method:
1. Mix 1/2 cup besan, and 1/2 cup rice flour in a bowl.
2. Add salt and mix well to a dosa like batter, adding water if required.
3. Heat oil in a kadai and hold the boondhi ladle plate above the oil.
4. Pour the batter gradually.
5. Fry till it becomes golden yellow and crisp.
6. Strain and keep aside.
7. Mix remaining flour with salt and butter.
8. Make a stiff dough adding water.
9. Make omapodi using omapodi plate.
10. Fry till it becomes crisp. Keep aside.
11. Fry poha, curry leaves in the pan and keep aside.
12. Fry chilies without oil and powder it with salt.
13. In a big vessel, mix everything – boondhi, omapodi, fried poha, cashew nut, roasted gram and ground nuts.
14. Add powdered chillies along with fried curry leaves.
15. Mix well and store in an airtight container.