A delicious and super quick dish with minimal ingredients, this garlic pasta is ideal for a quick lunch or dinner. If desired you can also add some sundried tomatoes (without the oil), spring onions and capsicum.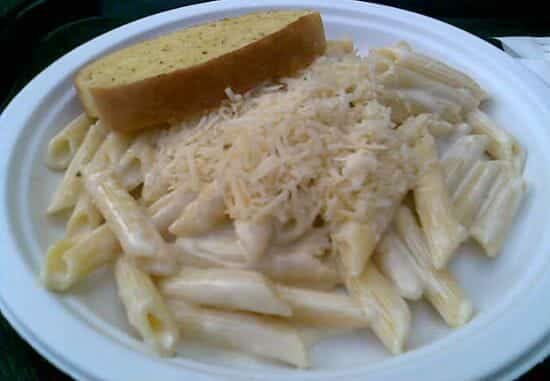 Ingredients:
Pasta – 3 cups, any variety, cooked as per packet instructions
Garlic – 1 tsp, finely chopped
Plain Flour (Maida) – 3 tblsp
Butter – 2 tblsp
Thyme – 1 tsp
Mixed Herbs – 1 tsp
Milk – 4 cups
Green Chillies – 4 to 5, chopped
Black Pepper Powder – 1 tblsp
Cheese – 4 to 5 cubes, very finely chopped or grated
Salt as per taste
Method:
1. Heat butter in a pan over medium flame.
2. Add the green chillies, garlic, thyme, mixed herbs and flour.
3. Cook for 1 to 2 minutes.
4. Add milk and mix well.
5. Simmer for a minute and add the pasta.
6. Add salt and pepper powder.
7. Mix well and continue to simmer until it starts to thicken.
8. Garnish with the cheese and remove from flame.
9. Serve at once.