Any region in India is primarily associated with its cuisine and your mouth start to drool when you get to know its preparation style or the ingredients. South Indian cuisine is one such example. Their tastes & variety seem to astound us! – They encourage our taste buds to enjoy perfect and irresistible flavors, typical of the South Indian soil.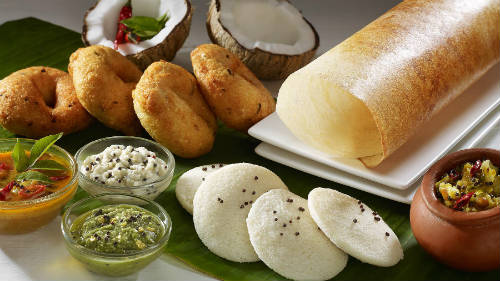 Let's look at some of the Famous Dishes of South India.
Famous Idli: "Malligai Poo" Idli, it is said, referring to the softness of the Jasmine Flower. Idli in South India is a very famous dish, made from Rice and Urad dhal batter. It goes well with "Milagai Podi", Coconut Chutney and Tomato Sambar for breakfast. People from other countries visit South India to taste Idli. Today, there are many improved versions like Vegetable idli, Kanchipuram idli , Rava idli and so on.
Dosa: The versatile Dosa has become so famous that it has spawned many siblings over the years!. The siblings are: Masala dosa, Set dosa, Onion dosa, Rava dosa, Kal dosa, Podi dosa and so on. Though this is primarily considered a breakfast item, it is versatile enough to be consumed during any time of the day for any meal.
Vada: Vada is made from Urad dhal and it is never eaten without its constant companions of sambar and chutney varieties. Keerai vada, Ulundhu vada, Masala vada are some other popular varients.
Bonda: Bonda once again is a favorite item made of urad dhal batter and at times is made of gram dhal flour as well. Mangalore bonda is Karnataka special and potato bonda is much liked by Tamil people along with mysore bonda.
Sambar: Tamil Nadu is known for sambar varieties with dhal and vegetable combinations- tangy, spicy and hot, it is a main dish in the main course and is ever found in all festivities.
Rasam: Rasam is a dish mainly taken for digestive purposes with the ingredients of pepper and jeera in it. While Tamil Nadu is famous for tomato rasam and milagu rasam, Karnataka is famous for Mysore rasam. Andhra's poondu rasam is loved by all.
Payasam: It is a special sweet dish which is an all-time favorite and the primary item in all south Indian banquets. Kerala is noted for its famous payasam varieties like pal payasam and chakkai prathaman – a dish made of jack fruit pieces.
Kuzhukattai: Kozhukattai is a sweet dish made of rice flour and coconut and jaggery mixture. It is tasty to eat and is always related to religious festivals.
Sakkarai Pongal: It is an evergreen delicacy liked by the South Indians for the sweetish flavor it renders to the tongue even after a long time. Girdled with ghee and made of rice and jaggery, it is also associated with the religious festivals of South India.
Rava Kesari: It is a common sweet dish of South India and people have rava kesari to start any function with in general. Very commonly found in Karnataka, rava kesari is used by Kannada people as a dish to improve the health of the children.
Mysore Pak: Made of gram dhal flour and sugar, this dish is sweet smelling with a lot of ghee and is considered as Diwali special in general.
Vathal Kuzhambu: Vathal Kuzhambu is a specialty of Tamil Nadu with the ingredients of manathakali vatral or sundaikai fried into the thick tamarind mixture. It is tasty and is used for cold, when added with pepper and fenugreek.
Mor Kuzhambu: It is a liquid of curd added with coconut and vegetables like ladies finger or pumpkin to add taste to. A favorite dish of Keralites and Tamilians it is.
Puliyodharai: A spicy tamarind mix with rice is a famous dish in almost all parts of South India, especially Tamil Nadu and Karnataka.
Lime Rice: Same like Puliyodhara, but it is a dish made of rice with lime juice with appropriate seasoning.
Avakkai Pickle: very famous product of Andhra Pradesh with its hot, tangy flavor with the richness of mustard powder.
Kuzhai Puttu: A traditional dish of Kerala with kadalai kari as the side dish. Healthy breakfast dish.
Idiyapam: it is also a healthy South Indian dish – steamed rice flour with the side dish of coconut milk.
Uttapam: It is miniature dosai with variety menu found in South Indian restaurants.
Hyderabad Biryani: Andhra Pradesh biryani, especially Hyderabad dum biryani with the base of mutton or chicken is a hot favorite of any non-vegetarian foodie.
Malabar Fish Curry: The coastal area of Kerala is ever famous for fresh fish curry with spicy and tangy sauce base.
Adai: It is a splendid dosa of all dal mixed and ground together. Good for health and tasty to eat.
Appam: Appam in general is a famous dish made of rice flour. Kuzhi appam is made with a special utensil with holes in it to fill up appams.
Paruppu Urundai Kuzhambu: This is a special item of Tamil Nadu, very rich food with the combination of the dhal balls in vatral kuzhabu.
Curd Rice: Not the least to mention – though it looks easy, thayir sadham or curd rice needs a lot of perfection to have complete taste – with additions of carrot, green chilies, coriander leaves and a bit of grapes to mention a few.
 image credit: shirishsen.com