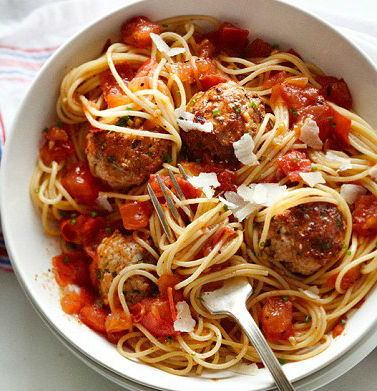 Ingredients:
Garlic – 2 cloves, finely chopped
Onion – 2 to 3 tblsp, finely chopped
Chicken – 225 gms, minced
Egg – 1, small
Dry Italian Seasoning – 1/4 tsp
Salt as per taste
Olive Oil – 1/2 tblsp
Dry Spaghetti – 175 gms
Marinara Sauce – 2 cups
Parmesan Cheese – grated
Breadcrumbs as required
Method:
1. Mix the garlic cloves and onions in a bowl.
2. Add the chicken, breadcrumbs, egg, seasoning and salt.
3. Stir till well combined.
4. Roll this mixture into 1 inch balls.
5. Heat oil in a pan over medium flame.
6. Add the meatballs and cook till browned on all sides.
7. Mix the marinara sauce and 1/4 cup water in a large pan.
8. Bring to a boil.
9. Add the meatballs and simmer for 15 to 20 minutes or until cooked.
10. Cook the pasta in a pan of boiling salted water.
11. Cook till al dente.
12. Drain and divide the pasta among serving bowls.
13. Top with the meatballs and sauce.
14. Sprinkle cheese on top and serve at once.
Note: Marinara sauce is a southern Italian tomato sauce usually made with tomatoes, garlic, herbs, onions and sometimes seafood. However there are many local variations to this.
Image credit: chatelaine