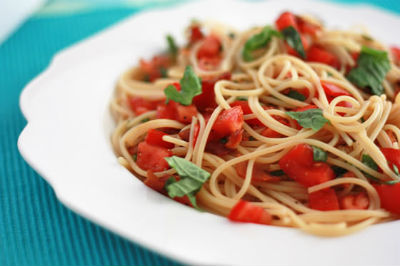 Ingredients:
Chicken Breasts – 225 gms
Capellini Pasta – 150 to 175 gms
Tomatoes – 2, halved, seeded, cut into small pieces
Garlic – 2 cloves, peeled and chopped
Basil – 1 to 2 tsp, chopped
Olive Oil – 1 tblsp
Balsamic Vinegar – 1/2 tblsp
Parmesan Cheese – 1/8 cup, grated
Salt as per taste
Pepper Powder as per taste
Method:
1. Sprinkle salt and pepper on the chicken breasts.
2. Place in a grill and cook for 3 to 4 minutes on each side or until cooked through.
3. Keep aside for 5 minutes and cut into 1/4 inch slices.
4. Keep the slices warm.
5. Heat a pan of salted water and bring to a boil.
6. Add the pasta and cook for 4 to 5 minutes or until al dente.
7. Drain and keep the pasta aside.
8. Mix the tomatoes, basil, garlic and olive oil in a bowl.
9. Add salt and pepper. Toss well to coat.
10. Divide the chicken slices among serving plates.
11. Top with pasta and place the tomato mixture on top.
12. Drizzle the vinegar on top.
13. Garnish with cheese and serve at once.
Note: image is for illustration purposes only and not that of the actual recipe.
Image credit: one lovely life