This easy to make pasta with mushrooms and garlic is ideal for a quick lunch or dinner.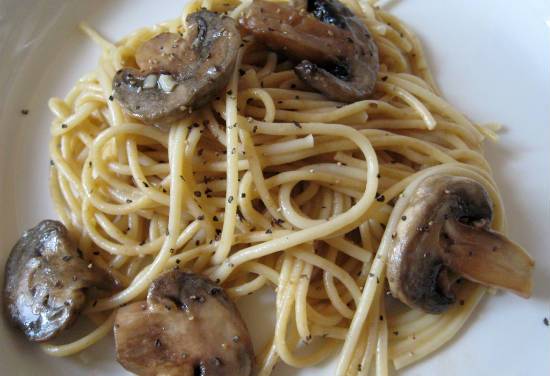 Ingredients:
Pasta – 250 gms (any pasta variety)
Button Mushrooms – 10 to 15, cleaned, finely sliced
Garlic – 8 to 10 cloves, peeled, crushed
Olive Oil – 2 tblsp
Cream – 50 gms
Parmesan Cheese – handful, finely grated
Salt as per taste
Black Pepper Powder as per taste
Method:
1. Cook the pasta as per packet instructions and keep aside.
2. Heat oil in a pan over medium flame.
3. Add the mushrooms and a pinch of salt.
4. Cook for 10 minutes or until the mushrooms are browned.
5. Remove and keep aside.
6. To the same pan, add the garlic and cook for 2 minutes.
7. Add the mushrooms and cream. Stir well.
8. Sprinkle some salt and pepper.
9. Add the pasta and cook for a minute or two.
10. Garnish with the cheese and remove from flame.
11. Serve at once.
Tip: If you want the pasta to be creamy, add some more cream.