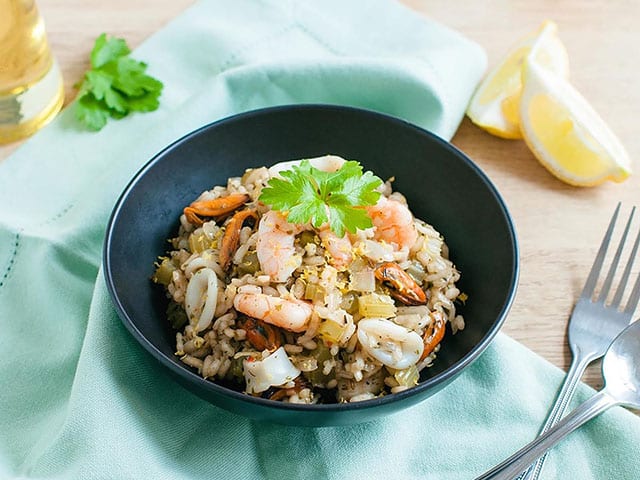 Ingredients:
Squid – 225 gms, cleaned, chopped
Vegetable Stock – 750 ml (or Water)
Prawns – 250 gms, shelled, deveined, tails intact
Onion – 1, small, finely chopped
Garlic – 1 clove, finely chopped
Any Short-grain Rice – 1 cup
Saffron – a small pinch
Tomato Puree – 1/3 cup
Lemon Zest – 1 tsp, finely grated
Parsley – 1 tblsp, finely chopped
Dry White Wine – 1/3 cup
Extra Virgin Olive Oil – 1 tblsp
Salt as per taste
Pepper Powder as per taste
Lemon Wedges

Method:
1. Gently simmer the vegetable stock in a pan over medium flame.
2. Heat 1/2 tblsp oil in a heavy bottomed pan.
3. Cook the prawns and squids for 2 minutes or until the prawns have changed colour.
4. Remove and keep aside.
5. Add the remaining oil to the pan.
6. Saute the onion and garlic till the onions are soft.
7. Add rice and saffron strands.
8. Stir well and cook for 45 to 60 seconds.
9. Add the wine and simmer for a minute.
10. Add the tomato puree and cook for a minute longer.
11. Pour 1/2 cup of the stock and cook till all the liquid has been absorbed.
12. Gently add the remaining stock and cook for 20 minutes or till only 1/2 cup of the stock remains.
13. Cover the pan with a lid and cook for 2 to 3 minutes.
14. Add the prawns and squids to the pan.
15. Add salt and pepper.
16. Mix well.
17. Garnish with the lemon zest and parsley.
18. Serve with the lemon wedges.
image credit: ocado.com