A classic Vietnamese street food, this is a light and flavourful soup. Popularly eaten during breakfast time, they can also be served as a light lunch or dinner.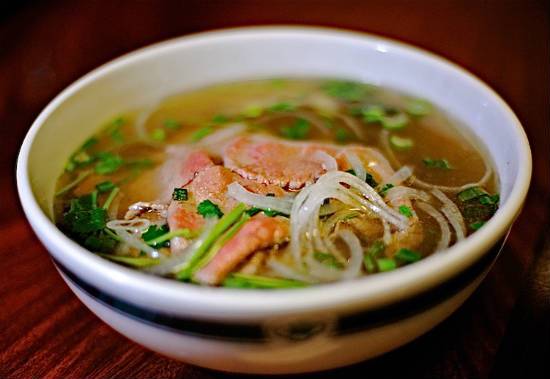 Ingredients:
Beef Sirloin – 125 gms, thinly sliced
Beef Stock – 2 1/2 to 3 cups
Ginger Garlic Paste – 2 tsp
Cinnamon – 1/2 stick
Cloves – 2
Star Anise – 2
Black Peppercorns – 1/2 tsp
Fish Sauce – 1 1/2 tsp
Rice Noodles – 100 gms
Dry Red Chilli – 1, small, chopped
Spring Onions – 2, chopped
Beansprouts – 1/4 cup
Coriander Leaves – handful
Slices of Lemon
Method:
1. Pour the stock into a large pan.
2. Place it over medium flame.
3. Add the cinnamon, star anise, ginger garlic paste, cloves, peppercorns, fish sauce and bring to a boil.
4. Reduce flame, cover with a lid and simmer for 30 minutes.
5. Strain the stock into another pan and place it over medium flame.
6. Bring to a gentle boil.
7. Blanch the noodles in hot water and keep aside for 5 minutes.
8. Drain and divide this among individual bowls.
9. Add the beef to the noodles.
10. Sprinkle spring onions, beansprouts and red chillies on top.
11. Pour over the hot stock and garnish with coriander leaves.
12. Serve with a slice of lemon.