A quick and easy to make wrap with chicken and tortillas. Great option for lunch, parties or brunch.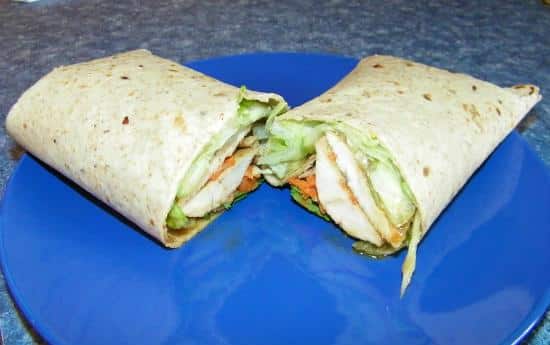 Ingredients:
Chicken Thighs – 4, boneless, skinless (you can use Chicken Breasts)
Cucumber – 1/4, deseeded, sliced
Carrot – 1/2, grated
White Wine Vinegar – 1 1/2 tsp
Oil – 3 tsp
Ginger Garlic Paste – 2 tsp
Light Brown Sugar – 4 to 5 tsp
Soy Sauce – 3 tsp
Flour Tortillas – 2
Lettuce Leaves – handful, chopped
Method:
1. Cut the chicken into thin strips.
2. Mix the cucumber slices, grated carrot and vinegar in a bowl.
3. Gently toss and keep aside.
4. Heat 1 tsp of oil in a frying pan.
5. Add the chicken strips and fry until cooked through and golden brown.
6. Remove and keep aside.
7. Add the remaining oil to the pan.
8. Reduce flame to low.
9. Add the ginger garlic paste, sugar, soy sauce and 1/3 cup of water.
10. Simmer until saucy.
11. Add the chicken and stir gently.
12. Warm the tortillas and place them on a flat surface.
13. Top up with lettuce, chicken and the cucumber carrot mixture.
14. Roll tightly and cut into half.
15. Serve or pack it for lunch.