Full of vitamins and proteins, this delicious and easy to make chickpeas and pasta soup is perfect for any occasion, any meal and any day.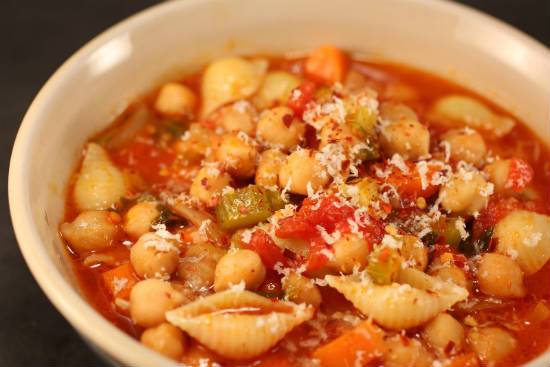 Ingredients:
Chickpeas – 200 gms, soaked in slightly salted water for 8 hours or overnight
Pasta – 2 tblsp, any variety, any shape
Tomatoes – 3 to 4, peeled, chopped
Vegetable Stock – 2 cups
Garlic – 2 cloves, crushed
Dry Red Chillies – 2, seeds removed, chopped
Olive Oil – 3 tsp
Spring Onions – few, chopped
Mint Leaves – handful, chopped
Salt as per taste
Cheese – little, grated, to serve
Method:
1. Heat olive oil in a pan over medium flame.
2. Cook the red chillies and garlic for a minute.
3. Add the vegetable stock, tomatoes, drained chickpeas and stir well.
4. Bring to a boil and reduce flame to low.
5. Cover and simmer for 10 minutes.
6. Add the pasta to the soup and simmer until tender.
7. Add the mint leaves, spring onions, salt and stir gently.
8. Pour into individual serving bowls.
9. Garnish with grated cheese.
10. Serve at once.